Comedian Freddie Starr has denied he was the third man in the dressing room with Jimmy Savile and Gary Glitter on the night they were accused of sexually abusing young girls.
Speaking out after an injunction against the allegations were overturned, Starr said any accusations that he was present were an "utter lie" and that he will take legal action against anyone who claims otherwise.
According to a woman who claims to have witnessed the abuse in the 1970s, Gary Glitter sexually assaulted a 13-year-old girl in Jimmy Savile's dressing room as the Savile groped another girl aged 14, Freddie Starr has denied the allegations and says he hates paedophiles
Karin Ward also asserts that a third well-known 80s TV entertainer, whose identity was not disclosed, was also present and tried to assault her.
She said: "I rebuffed him and he humiliated me in front of everyone in the dressing room by saying something really unkind about my lack of breasts, which to a 14-year-old girl was just awful.
He told ITV: "I was sick to the stomach when I heard that. It is disgusting and it never happened.
"I didn't know Savile but I couldn't stand his face. I wanted to punch it."
Ward made the claims in an ITV documentary aired earlier this week. Although she identified the third man, ITV was forced to edit out his name as he is still alive and has disputed the claim.
Gary Glitter, a convicted paedophile, has reportedly denied the claims.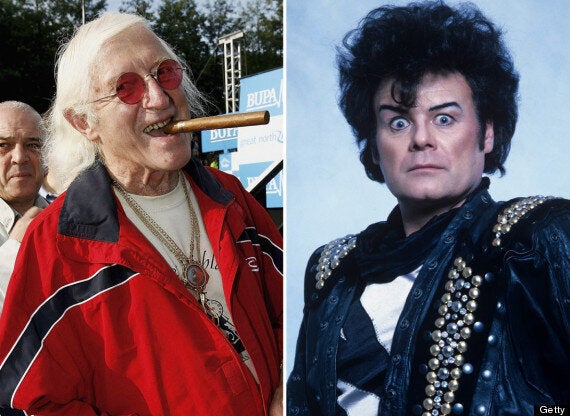 Firm friends: Sir Jimmy Savile and Gary Glitter
Ward also claims that Savile himself tried to abuse her. She said: "Jimmy Savile used to come to Duncroft. He used to take us girls out. We loved it when he was here.
"Everybody knew he was a perv and everybody knew he would be groping and wanting sex and wanting other worse things than just plain sex but he brought lots of nice things with him.
"We got nice food when Jimmy was coming. He used to bring a thousand cigarettes with him and cigarettes were the currency in that kind of environment so girls just flocked around him.
"He brought sweeties. Sometimes he bought perfume, he brought make-up.
"A lot of things were duty free. He lavished gifts on everybody and was all jolly and then he wanted people to come out with him for a ride in his car."
A number of women have come forward with similar claims which have been brought to the attention of police.
On Thursday night, Scotland Yard announced it will be "working closely" with the BBC as it takes the national lead in assessing allegations against late TV presenter Sir Jimmy Savile.
The Metropolitan Police said the assessment of claims will be led by Detective Superintendent David Gray from the force's Child Abuse Investigation Command, and that a formal investigation had not yet been launched.
The force issued a statement which said: "Our priority will be to ensure a proportionate and consistent policing response putting the victims at the heart of our inquiries. It is too early to say how many individual allegations there are, and we will be making contact with all those concerned in due course.
"We will be working closely with the BBC investigations unit. Anyone else with information is urged to make contact with their local police so that any further information can then be passed to us."
Scotland Yard was appointed to lead the assessment after the Association of Chief Police Officers (Acpo) looked at the claims.
An Acpo spokeswoman said: "Following an initial assessment of a number of allegations made against the late Sir Jimmy Savile, a decision has been made to appoint a lead force to manage the police and child protection response. The Metropolitan Police Service has been appointed as the lead force."
Police across the country have issued advice to anyone who thinks they might be a victim to get in touch with their local force or children's charity the NSPCC for support.