The BBC has revealed it is investigating nine allegations of "sexual harassment, assault or inappropriate conduct" among current staff and contributors as the fallout from the Jimmy Savile scandal continues.
The disclosure came after director general George Entwistle was urged to "get a grip" on his organisation during a hostile grilling by MPs about the broadcaster's handling of claims of sexual abuse by the presenter over several decades.
Condemning the "broader cultural problem" at the BBC that had allowed Savile's alleged behaviour to take place, he conceded the corporation had been slow to react to the emerging crisis. The allegations against Jimmy Savile have rocked the BBC
And he expressed regret that Newsnight did not press ahead with an investigation last year that included interviews with some of the former star's victims.
Newsnight editor Peter Rippon has stepped aside after a Panorama probe prompted to the BBC to say his explanation of why the show dropped its investigation into Savile was "inaccurate or incomplete".
Mr Entwistle said the scandal raised questions of trust and reputation in the BBC. Mr Entwistle said 'one cannot look back with anything but horror'
He told MPs: "There's no question that what Jimmy Savile did and the way the BBC behaved - the culture and practices of the BBC seemed to allow Jimmy Savile to do what he did - will raise questions of trust for us and reputation for us. There's no question about that.
"It is a gravely serious matter and one cannot look back at it with anything but horror that his activities went on as long as they did undetected.
"Of course, that is a matter of grave regret to me." Newsnight investigation into Savile should have continued, said Mr Entwistle
Mr Entwistle said the inquiry by Nick Pollard, former head of Sky News, into why the Newsnight investigation into Savile was dropped is expected to report back "in weeks".
He admitted Mr Rippon's blog account was "a matter of regret and embarrassment".
Mr Entwistle told the committee he had ordered an internal audit of the operation of the BBC's child protection policies and would report its results to the BBC Trust in December.
He said: "So far as I have been able to tell so far, Mr Savile prosecuted his disgusting activities in a manner that was very successfully and skilfully concealed.
"Experts in paedophile behaviour have pointed out that this is often the case... People build long-range plans to put them in contact with their targets. These things are institutionally, it seems, very difficult to deal with."
The director-general told MPs he believed the Newsnight investigation into Savile should have continued and said there had been a "breakdown of communication" between Newsnight reporters and the editor and he did not feel "confident" that he could get an explanation over what happened from within the BBC.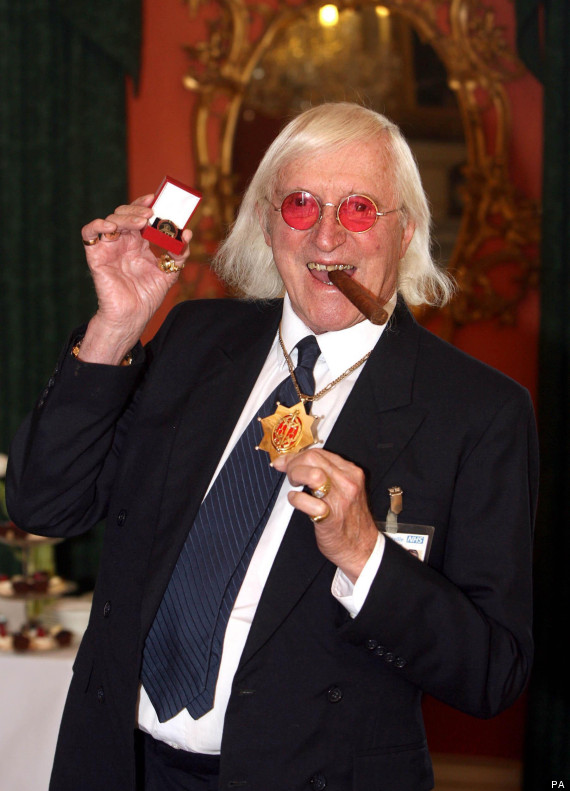 Police have identified more than 200 potential victims
Conservative MP Therese Coffey branded "chilling" an email sent by Mr Rippon last November that said "our sources so far are just the women" and questioned whether the culture had really changed at the BBC.
"That phrase, on the face of it, isn't in the least defensible, of course," Mr Entwistle said. "I do believe the culture has changed since the 70s and 80s but I'm not convinced it has changed as much as it should have."
Mr Entwistle told the committee he had not spoken to any of those involved in preparing the Newsnight film.
He said he felt it was better to operate through the BBC "chain of command", so he could remain an impartial judge of any subsequent disciplinary case, and had left it to head of news Helen Boaden and deputy director of news Stephen Mitchell to deal directly with the programme.
It emerged last night that a Newsnight reporter alleged that her editor tried to "kill" the Jimmy Savile story by making "impossible editorial demands".
SEE ALSO:
Channel 4 News said it had seen an email sent last December by Liz MacKean in which she wrote: "Having commissioned the story, Peter Rippon keeps saying he's lukewarm about it and is trying to kill it by making impossible editorial demands."
She reportedly claimed: "When we rebut his points, he resorts to saying, well, it was 40 years ago ... the girls were teenagers, not too young ... they weren't the worst kind of sexual offences etc."
In a letter to BBC Trust chairman Lord Patten, Culture Secretary Maria Miller warned the scandal had raised "very real concerns" about public trust in the corporation.
She said it was vital that the independent inquiries were "able to follow the evidence wherever it takes them".
In his response Lord Patten wrote: "You know how seriously the Trust takes the allegations surrounding Jimmy Savile and the need to maintain public trust in the BBC."
The peer said the inquiries would be "comprehensive and independent", but also delivered a thinly-veiled warning that the Government should not wade into the row.
"I know that you will not want to give any impression that you are questioning the independence of the BBC," he wrote.