A man who suffers from physical disabilities and mental health problems but was judged fit to work by private government contractors is holding a week-long hunger strike outside the company's offices in Cardiff to show Atos "the misery and pain they are causing."
Christos Palmer, 32, is appealing against Atos' decision he was 'fit for work' and in partnership with Disabled People Against Cuts is staging week long vigil outside their offices. He says he is "too scared" to check how little he is being paid in Employment Support Allowance.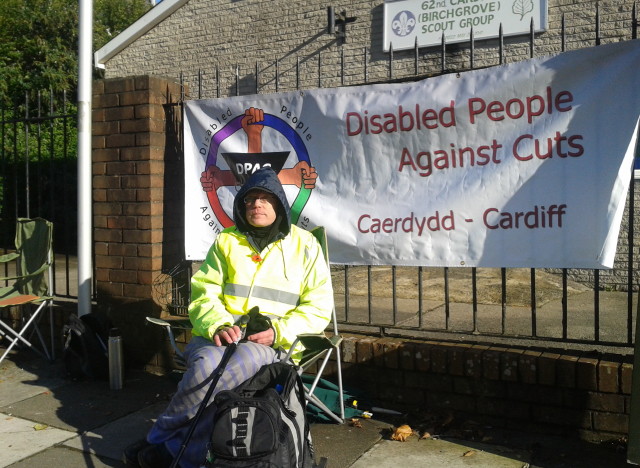 Christos Palmer was found 'fit for work' after the work capability assessment
He told the Huffington Post UK though he wouldn't encourage anyone else to starve themselves, his action was motivated by "sheer frustration with the way Atos treats people.
"Atos are killing people left, right and centre. One of my friends, Karen Sherlock, died earlier this year whilst trying to claim her benefits. I want Atos staff to see me out here to know disabled people are suffering and in pain."
More than two million people are currently being assessed as part of a government drive to encourage people off benefits and back to work. Atos performs the test, but the final decision to cut or award benefits rests with the DWP.
Anti-cuts and disability campaigners claim that inaccurate testing is forcing disabled people to live in poverty and in some cases driving them to take their own life.
Karen Sherlock died in June after a two year battle to stop her benefits from being taken away. She was granted her Employment and Support Allowance just weeks before her death. Her husband Nigel told the Daily Express that battle "caused her terrible anxiety in the final years of her life. It should have been plain to anybody that my wonderful wife was not capable of work. Just getting through the day at home was becoming a struggle.
"She should not have been put through the indignity of having to justify her benefits, which she wouldn't have claimed if it was not justified."
Mr Palmer said he is taking his benefits case to tribunal too. He said: "I suffer from mental health issues and though I usually pass benefit assessments this year they found me fit for work.
"I have to go to tribunal in the new year. It's very stressful and upsetting."
However he said despite being cold he is determined to stay outside the offices all week from 8am till 4pm to "show David Cameron we are not going to lie down and die quietly."
Atos Healthcare spokesperson told the Huffington Post UK:
"While our doctors and nurses are frequently targeted by those opposed to the Employment and Support Allowance and Work Capability Assessments, the truth is that Atos Healthcare does not make the decisions about whether someone is entitled to benefits.
"Our trained professionals go to every effort to carry out their carefully defined role with compassion and sensitivity for the concerns and pressures that can be felt by those being assessed. Atos Healthcare joins those who have done so already in urging Mr Palmer to end his hunger strike."