I'm A Celebrity MP Nadine Dorries renewed hostilities with prime minister David Cameron on Saturday by accusing him of trying to "control" Conservative MPs.
The backbencher, who had the Tory whip suspended when she disappeared into the Australian jungle, also described the response of Tory high command to her appearance on the reality TV show as "infantile".
Dorries, who was the first contestant to be voted off the current series of I'm A Celebrity, Get Me Out Of Here! earlier this week, will have to account to Conservative chief whip Sir George Young on her return to Westminster if she wants to return to the Tory fold.
But, in an interview with The Sun, the Mid-Bedfordshire MP made little attempt to smooth things over with Downing Street and risked further inflaming long-standing tensions between herself and Cameron. She has in the past described the prime minister and chancellor George Osborne as "arrogant posh boys".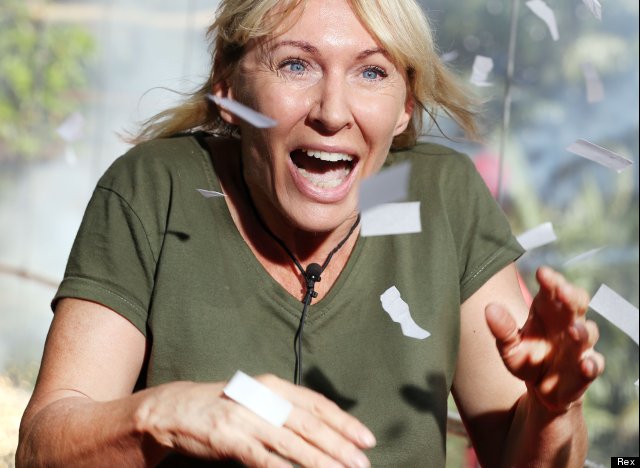 Dorries continued her feud with Cameron during an interview with The Sun
She said that she longed for Tory mayor of London Boris Johnson to take over as prime minister and that she would consider quitting as an MP if he did not.
"There is a real control mechanism under Cameron in Number 10 now. MPs and how they vote are tampered with," she said.
"If Boris Johnson was prime minister and issues like abortion came to Parliament, it would be a free vote. He wouldn't tamper with people's views, unlike what happens now in Cameron's Westminster, and he would be more statesmanlike."
Dorries shocked her Westminster colleagues and Mid-Bedfordshire constituents alike when it emerged she had jetted off to Australia for the TV show. Under the programme's rules, she was not allowed to announce her appearance in advance. Dorries insists she had permission from the then chief whip to have November off
She insists she had permission from then chief whip Andrew Mitchell to take a month off in November, but admits she did not tell him what for.
Striking a defiant note, she said: "Sir George Young has asked for a meeting when I'm back in Britain. But I can't be de-selected. I'm MP for Mid-Bedfordshire till 2015 and will justify this to my constituents properly when I get home."
She added: "I have achieved exactly what I set out to achieve by going into the jungle. I wanted to go in because I wanted to reach a wider audience.
"But a degree of panic set in at Number Ten when they found out, because they thought I was going in to damage David Cameron and George Osborne.
"They thought, 'What can we do to distance her and rubbish her quickly before she rubbishes us'? It was completely infantile and stupid."