Twenty five Indian men have donned skirts to take part in a gathering to oppose violence against women.
The event, dubbed Skirt The Issue, saw around 200 people come to the event in Bangalore and was organised in the aftermath of the fatal gang rape of a 23-year-old student on a bus in Delhi. Five men are currently appearing in court, charged with gang rape and murer. A sixth faces trial at a juvenile court.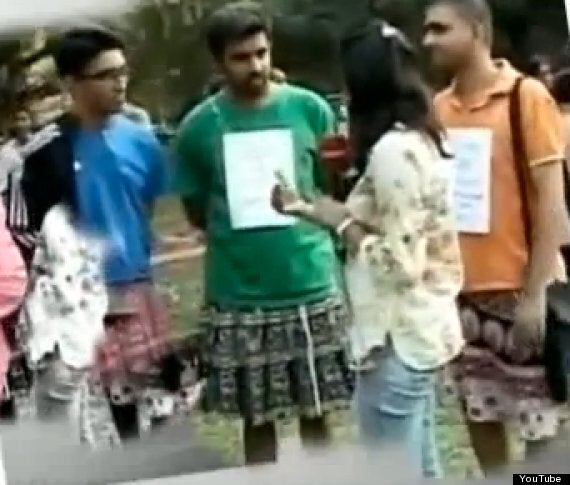 An NDTV reporter interviews participants at the Bangalore Skirt The Issue event
It explained: "Please make sure there are NO PLACARDS, NO POSTERS, NO SLOGANS. You can write your message on a piece of white paper and cello-tape it onto your t-shirts. This is an awareness initiative, a creative campaign and we request everybody coming out to show their support by observing this guideline.

"How can you do this? Wear a skirt and speak to as many as you can against the misconception that what a woman wears is the cause for sexual violence against her. Go about your day as usual, go to work, go shopping, watch a movie, but do it in a skirt wherever you are. But do tell people why you're wearing it.

"Why does wearing a skirt make a difference? It's a satirical take on the issue to draw attention to the absurd idea that what a woman wears invites sexual assault. Wear that skirt as a symbol of your support to a woman's right to wear what she wants, be who she is, exercise her rights, and be safe in her city. Nothing shows more solidarity with women than breaking barriers and boundaries of 'his and hers'.

"We know that some of the strongest feminists out there are men - men who believe that women have an equal stake in the right to freedom, security and justice in this country. We're asking those men to come out as a show of support, show India that her women are not fighting this battle alone."
One man said: "Please don't judge a woman for what she wears, it's more important that you respect her for her character and what she is. Whatever she does, please leave it to her."
Another added: "Wearing a skirt does not make me a woman, wearing a skirt is my choice and women should have the same choice that I have. Nobody holds me up for my choices, but women are held accountable for the clothes they wear and the choices they make. They should have the same rights as every man has."
A further participant stated: "We definitely don't want the momentum to end, we want to make sure that we can keep this going for as long as possible. We don't want anyone forgetting we're trying and I know we are not going to make a permanent change but it has to start somewhere and we're going to start now."
As New Delhi emerges as the 'rape capital' of India, with 25% of cases across the whole of India occurring in the capital, and the grim statistic that a woman is raped in in the capital every 14 hours, we're right behind you guys.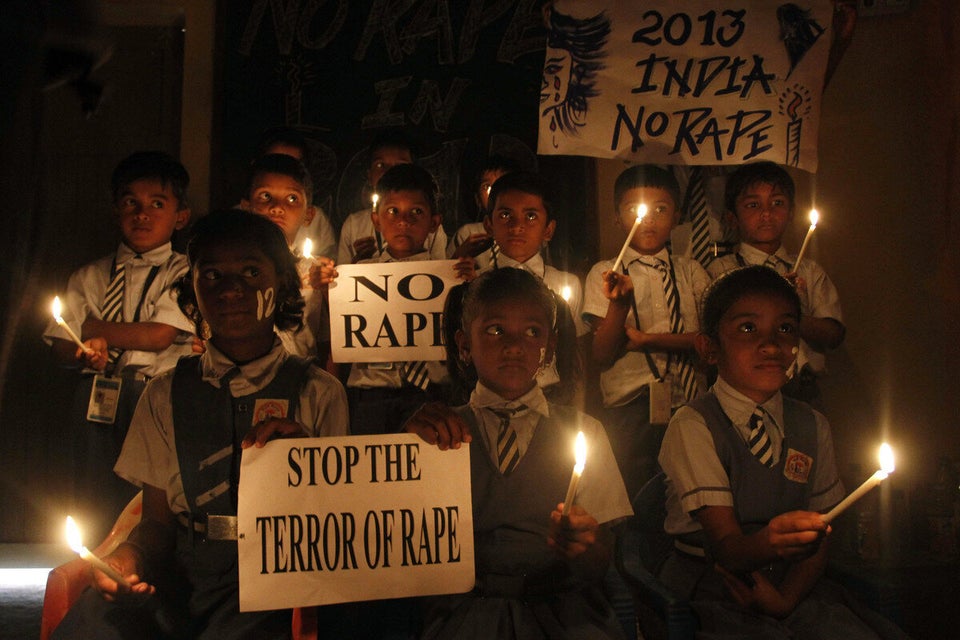 India Protests Against Gang Rape Case