Liberal Democrat MEP Graham Watson faced fierce criticism tonight after a tweet was sent from his account insinuating that Al-Qaida had won a victory over the Prime Minister.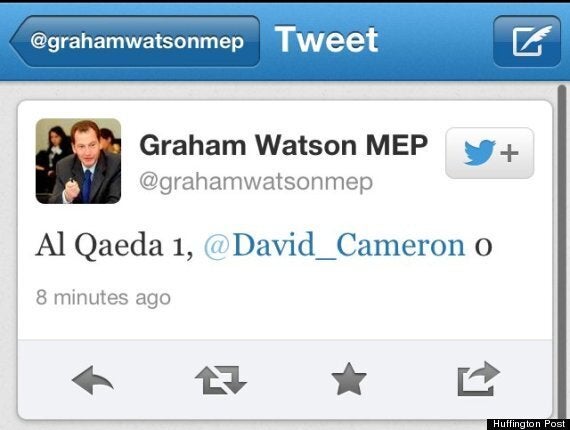 Graham Watson's original tweet before being deleted
The "sick and offensive" message, sent from the account of Mr Watson, who represents South West England and Gibraltar, read: "Al Qaeda 1, @David_Cameron 0."
The dig was an apparent jibe at Mr Cameron's decision to postpone his planned trip to Amsterdam for a speech on Europe and instead stay in the UK following the Algerian hostage crisis.
Lib Dem leader Nick Clegg "utterly condemned" the tweet, for which Mr Watson later apologised.
The MEP wrote: "I wish to apologise profusely for the insensitive tweet I issued earlier. I have taken it down."
Users of the site called for Mr Watson's resignation over the message, which came as it was reported that two British workers were among the dead following an Algerian military raid to free hostages at a desert gas plant.
Speaking shortly after the tweet, a Lib Dem spokesman said: "We have not been able to verify whether this tweet is authentic.
"But whoever it is from, it is clearly sick and offensive and is utterly condemned by Nick Clegg."
He later added: "Graham has profusely apologised for his insensitive tweet."
Conservative blogger and broadcaster Iain Dale said Mr Watson was a "disgrace", adding: "What a disgusting thing to do."
Twitter-user @Biltawulf wrote: "Unelectable insensitive idiot. You just turned people's families into a football score."
The sentiment was echoed by @hughbs, who addressed Mr Watson directly, saying: "Sorry, apology not accepted. You have revealed just how petty and self-serving you really are. Hope electorate will judge."