George Osborne is under pressure to do more to jump start the ailing economy after another set of negative growth figures put the UK on course for an unprecedented triple-dip recession.
But the dismal picture swelled the chorus of voices on all sides demanding Osborne use his Budget in March to slow his austerity drive in bid to inject life into the sluggish recovery. The chancellor has been urged to change course after a poor year for growth
Office for National Statistics (ONS) calculations showed the economy flatlined in 2012 as a whole and experts predicted it would not regain its peak level for another two years.
London mayor Boris Johnson urged his Tory colleague to "junk talk of austerity" and press ahead with major infrastructure projects to revive the economy, saying confidence was crucial.
Among senior financiers speaking out was Jim O'Neill, chairman of Goldman Sachs Asset Management, who told The Independent that the GDP reverse showed fiscal policy had been "tightened too much" by the Chancellor.
The added voices come days after the International Monetary Fund slashed the UK's growth outlook to 1% in 2013 and its chief economist Olivier Blanchard suggested spending cuts should now be slowed. Osborne is with prime minister David Cameron at the World Economic Forum in Davos
Deputy Prime Minister Nick Clegg had also appeared to admit the coalition cut spending too deeply when it took power, saying there should have been more investment in infrastructure to support growth.
He conceded on Friday that there was "some way to go before the recovery really takes root".
The Government is also braced for the loss of Britain's coveted AAA credit rating with all three major ratings agencies putting the country on negative outlook.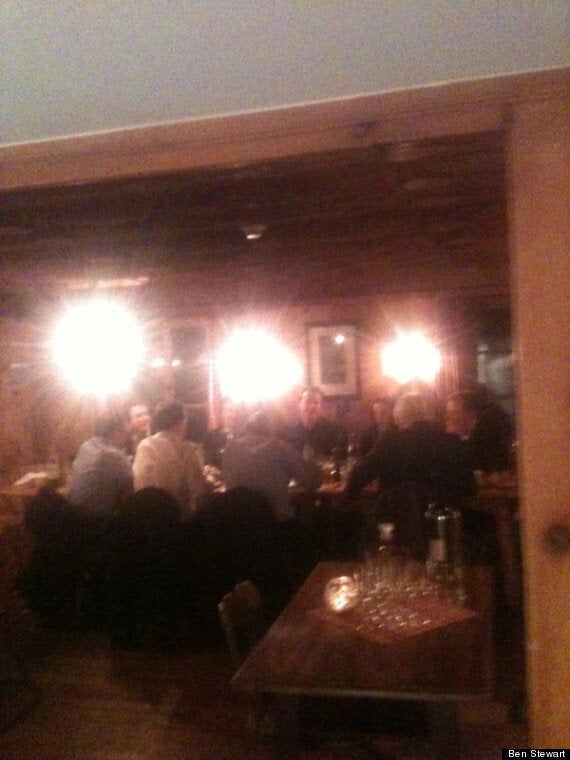 Osborne, Cameron and Johnson were pictured dining together in Davos the night before the figures were released
Shadow chancellor Ed Balls accused Osborne of being "asleep at the wheel" and said now was the time for a "plan B" to promote growth through VAT cuts and spending on infrastructure.
He said: "The longer David Cameron and George Osborne cling on to their failing plan the more long-term damage will be done. They must finally listen and act to kick start this economy."