Tony Blair has been awarded by business leaders in Poland to thank him for supporting the country's bid to join the EU, and opening up the British labour market to Poles.
The former prime minister was honoured with the 'Special Prize' at the Business Leader's Awards in Warsaw, in the form of a gold statuette, which was collected by Robin Barnett, Britain's ambassador in Poland.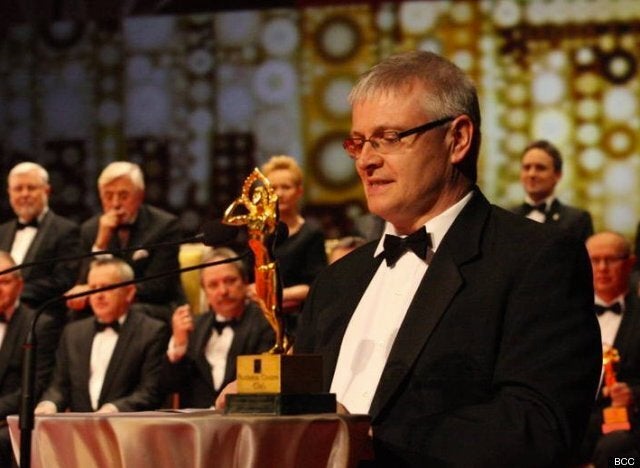 Robin Barnett collecting the award
A video message was reportedly broadcast from the ex-Labour leader, who now serves as a Middle East envoy.
"I have a lot of admiration for Poland and the Polish people," Blair said, according to a statement on the Business Centre Club's website.
"I would like to thank you for the contribution you have made to the European Union as well as the role you play in my country, the UK."
"This is a tough time economically, but I know about the fantastic work of which Business Centre Club can be proud," he added.
Previous recipients of the award have included Margaret Thatcher, Bill Clinton and former Taoiseach Bertie Ahern. Tony Blair received special recognition for helping Poles come to the UK
Labour's immigration policies under Tony Blair have proved controversial, after ministers admitted earlier this week that relaxing border controls for Eastern European immigrants was a "mistake."
The previous Labour administration significantly under-estimated numbers coming from countries like Poland in the last decade, with the 700,000 arriving from Eastern Europe far overtaking the 15,000 expected to emigrate.
The experience has seen officials already seeking ways to curb arrivals from Romania and Bulgaria when the temporary restrictions on immigrants from the two newest EU member states end in December.
Experience with Polish immigration showed "how difficult it can be to provide a robust numerical estimate", said Cameron's official spokesman on Monday, after reports suggested the government was to launch an advertising campaign highlighting the pitfalls of life in the UK (such as the rain) to put off would-be immigrants.
However in an interview with the BBC, Blair said he didn't regret his immigration policies and the government should instead focus on curbing illegal immigrants. He told the broadcaster: "I don't regret it because the Polish community and other communities from Eastern Europe do good work in our country. I'm happy with them, [but] I understand there's a very marked sensitivity around that.