The Pakistani schoolgirl shot in the head by the Taliban has spoken of being given "a new life" to serve the people who have prayed for her, in a video released on Monday.
Malala Yousafzai, 15, made the comments in a video recorded before her last bout of surgery at the Queen Elizabeth Hospital in Birmingham. Malala in her first video statement since she was shot
Speaking clearly, but with noticeable damage to the right side of her face, said: "Today you can see that I'm alive. I can speak. I can see you, I can see everyone.
"And today I can speak. I am getting better day by day and it's just because of the prayers of people.
"Because all the people, men, women and children, all of them have prayed for me. And because of these prayers, God has given me this new life.
"And this is a new life; a second life. And I want to serve, I want to serve the people."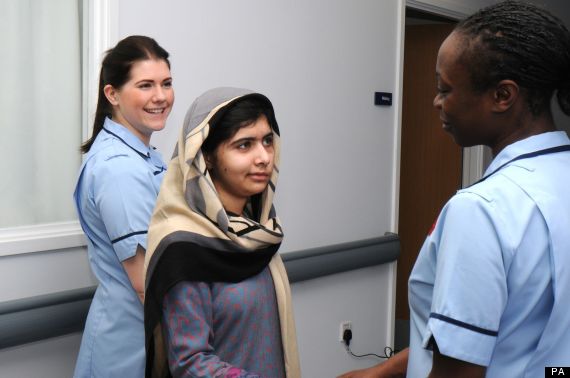 Malala Yousafzai was shot in the head by Taliban gunmen
Malala was was hit just above her left eye by a bullet which travelled along her jaw and grazed the edge of her brain.
Malala was targeted after blogging for BBC Urdu about life under Taliban rule, providing hope to a region living in fear.
The schoolgirl was only 11 when the Islamist militant group banned girls' education in the Pakistan's Swat valley in 2009. In the video she talks about her passion for universal education. Doctors are delighted with Malala Yousafzai's recovery after being shot in the head by the Taliban
"I want every girl, every child, to be educated. And for that reason, we have organised Malala fund," she said.
More than 4,000 girls' schools were razed to the ground. Girls who attempted to study lived in fear of being kidnapped, having acid thrown in their faces or even being killed.
The comments were also recorded in Urdu and Pashto. The new charity, the Malala Fund, will help campaign and raise money for universal educational rights, in Pakistan and other countries around the world.
Malala is expected to remain in the UK for some time as her father, Ziauddin, has received a diplomatic post based in Birmingham.
SEE ALSO: