British savers and companies are facing a nervous wait with negotiations over a bailout deal for Cyprus on a knife-edge, with the EU's finance commissioner saying there are only "hard choices" left for the country.
The island nation is expected to go bankrupt within days unless it can raise almost six billion euro (£5 billion) to qualify for a 10 billion euro (£8.4 billion) rescue package from other single currency members and the IMF.
Sunday evening is the deadline for an agreement to be reached.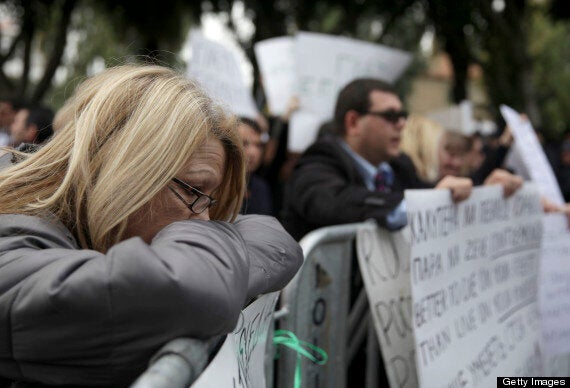 People protest outside the Cypriot Parliament
The official, who spoke on condition of anonymity, said a Cypriot plan to tap nationalised pension funds, opposed by Germany.
Eurozone finance ministers are due to meet in Brussels Sunday evening to discuss the situation, and potentially sign off on an agreement that could prevent a fresh crisis in the area.
The UK Government has promised to compensate any British Armed Forces personnel left out of pocket.
However, the island's 60,000 British expats, who hold two billion euro (£1.7 billion) in accounts there, will not be exempted from any settlement.
EU's commissioner for economic affairs Olli Rehn said on Saturday night: "It is clear that the near future for Cyprus will be very difficult.
"But Cyprus and the Cypriot people are a part of the European family. The European Union stands by them and will help to rebuild the Cypriot economy.
""t is essential that an agreement is reached by the eurogroup on Sunday evening in Brussels on a financial assistance programme for Cyprus.
"This agreement then needs to be swiftly implemented by Cyprus and its eurozone partners. Unfortunately the events of recent days have led to a situation where there are no longer any optimal solutions available. Today there are only hard choices left."