One of Britain's most controversial right wing politicians has said the BBC should play the anti-Thatcher anthem Ding Dong The Witch Is Dead on Radio One.
Ukip leader Nigel Farage, who is quoted in the Daily Telegraph, said: "If you suppress things then you make them popular, so play the bloody thing. If you ban it it will be number one for weeks.
"Personally I think that the behaviour of these yobs - most of whom weren't even born when Lady Thatcher was in power - is horrible, offensive and disgusting.
"Much as I hate it, I think that if you ban a record you make a huge, huge mistake."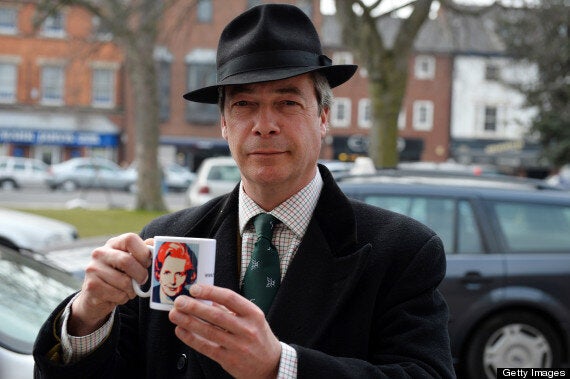 Play it: Ukip leader Farage says Ding Dong should be played by the BBC
A growing number of Tory MPs have also joined calls for the song, which has quickly become the most talked about issue surrounding Thatcher's funeral.
Corporation bosses say they have not yet decided whether to play Ding Dong The Witch Is Dead if anti-Thatcher protesters manage to get the song into Sunday's singles chart.
But they insisted the charts were a "historical and factual" account of what music was being bought.
The Wizard of Oz track, sung by Judy Garland, is on course for a top five place after selling 20,000 copies since her death on Monday.
Tory MP John Whittingdale, Thatcher's former political secretary and chairman of the Commons Culture, Media and Sport committee, said it could present a "difficult" dilemma for the BBC.
Whittingdale told The Huffington Post UK: "I very much hope the issue will not arise, in that I would be very saddened if a song which will be being promoted on the basis of celebrating the death of Margaret Thatcher should achieve success that would be sufficient to put it into the charts.
"I think it would be difficult if that were the case, but I hope we're talking about an academic issue, not an actual one."