Hundreds of anti-cuts activists have delivered "eviction notices" to the homes of Lord Freud and Iain Duncan-Smith, in civil disobedience actions to protest at the Government's controversial welfare changes.
Campaigners from UK Uncut are protesting outside Tory peer and investment banker Lord Freud's alleged £1.9m home in Highgate, London and 20 disabled activists are protesting outside Iain Duncan Smith's 16th century home in Buckinghamshire, alleged to be worth £2m.
The effect of the so-called bedroom tax is being highlighted, with protesters taking beds with them during the demonstrations, and removal trucks unloading furniture into the streets.
UK Uncut, who encouraged people to bring children to the protest, said youngsters would be entertained by storytellers reading "Freudian" bedtimes stories, aimed at raising awareness about hardship and greed in a child-friendly way.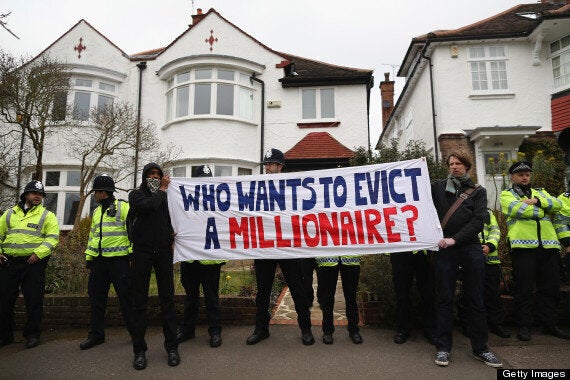 People hold a sign as UK UNCUT supporters protest over the government's changes to the welfare system and the proposed 'Bedroom Tax'
Police were present at the protest, and a Metropolitan Police spokeswoman said they had no information as yet as to whether there had been any disturbances or arrests as a result of the protest.
Author and Independent newspaper columnist Owen Jones and Green party leader Natalie Bennett came to show their support for the protest. Jones said: "Lord Freud is an unelected politician from one of the most privileged backgrounds imaginable.
"He had no background whatsoever in social security and welfare state, and yet he's one of the figureheads of this Government's offensives against welfare state and social security.
"Instead of just bailing out the banks and let them carry on doing exactly what they want, let's take proper control of the banks that should rightly belong to us, the people who bailed them out.
"We stand together, we fight together and, friends, we will win this together."
Rachel Johnson, a UK Uncut activist, said: "This government is turning Margaret Thatcher's wildest dreams into a nightmarish reality for ordinary people.
"The bedroom tax and benefits cap will make hundreds of thousands of people even poorer and homeless as they will be evicted from their homes, away from family and their jobs.
"Disabled people, women, single mothers and ethnic minorities will be hit the hardest by these devastating cuts.
"It is an outrage that the most marginalised in our society are being targeted while the government is slashing taxes for the richest."
Another activist, Jackie Smith, said: "The bedroom tax is the poll tax of our times.
"This government is continuing Thatcher's radical economic plan of privatisation, slashing of benefits, union smashing and deregulation that ensure that big business, wealthy people and banking system benefit and get richer, while we pay the price.
"We need to continue to resist these devastating ideological policies that are tearing apart communities and wrecking people's lives.
"Margaret Thatcher may have died but her policies are alive and well. We need to resist them and we will bring the cuts home to those who are implementing them to show that we will not stand for these devastating, unfair and unnecessary cuts."
From outside Duncan Smith's home, disability activist Eric Robson said: "This month sees the latest round of government attacks on disabled people.
"Two out of three homes affected by the bedroom tax have disabled people living in them, the beginning of the end for DLA, council tax changes, no legal aid for benefit appeals and the ongoing discredited WCAs mean millions of disabled people will be poorer – and still have the same barriers to work and society.
"There is no strategy in place to address this except forced labour and sanctions.
"Yet hundreds of millions are handed to profiteers like Atos and Capita to make this happen."
Isabel Young, who works with vulnerable women said in a speech to the crowd: "A room for foster children or teenagers or a disabled partner might be spare for people who live in mansions but not for anyone else.
"People are being forced to pay £14 a week for having this room, again this may be spare cash in the pockets of millionaire politicians, but it is the difference between adequately feeding a family and staying warm, and for some it will mean choosing between a hostel or the streets."
A Department for Work and Pensions spokesperson said: "Our welfare reforms will help people back into work, which will benefit the economy more than simply abandoning them to claim benefits year after year.
"These changes are essential to keep the benefits bill sustainable, so that we can continue to support people when they need it most across the UK.
"People who disagree with these reforms have a right to express their views but only if they do so within the law."
UK Uncut stressed it was not involved in the event in Saturday's planned London's Trafalgar Square for people opposed to Margaret Thatcher, adding it was not organising any action related to the death of the former prime minister.