As the sixth anniversary of the disappearance of Madeleine McCann approaches, her parents insist the search for her is ramping up rather than tapering off.
Madeleine was nearly four when she disappeared from her family's holiday apartment in Praia da Luz in Portugal's Algarve on May 3, 2007 as her parents dined at a tapas restaurant with friends nearby.
Friday will mark the sixth year since the toddler, who would now be 10, went missing. Madeleine McCann has been missing since 2007
Parents Kate and Gerry McCann, from Rothley, Leicestershire, on Wednesday said they continue to search for their daughter and remain as hopeful as ever - if not more so.
The couple are confident they are be in a better position as the Metropolitan Police continue to review the case.
"In many ways things haven't changed and you could argue that, with the Met review two years in, we are actually in a better place because so much more information has been collated and lots of pieces of the jigsaw have been filled," Gerry, 44, told the Press Association.
"It's just about keeping looking, find out what's happened to Madeleine and hopefully finding those responsible."
He said he was confident in work being carried out by the Met, adding: "This is what we campaigned for and Kate will tell you that the Met are absolutely determined to see the job through.
"They feel like they are getting their teeth into the job."
His wife added: "When people come in they are always really enthusiastic to help and as time goes by, if you don't yield results people's motivation can wane. On Wednesday, Kate and Gerry McCann expressed continued hope their daughter will be found
"I think the opposite has happened with the Met. They seem to be more determined than ever."
The couple, who will mark the anniversary with a service in their village, said although they struggle with various occasions, including Madeleine's birthday, they are coping with her absence.
But they admitted they had found a "new normality" as the time passes.
"Probably the last couple of years it's been a new normality," said Gerry. "We have adapted to our situation.
"There isn't so much intrusion and we're not in the public eye very much so those pressures have disappeared.
"The thing for Kate and I was always about having a proper search and turning over every stone and we feel like that is being done."
But he said that did not mean they did not still have hope: "Of course we miss Madeleine terribly but we still hope that we will find her.
SEE ALSO:
"We are still in the same situation and for us we have got to keep going until we find Madeleine and those responsible."
Kate, 45, said every sighting - especially in the early weeks and months - used to get their hopes up, but that had stopped happening.
"I get friends and family who get in touch with me when they read about sightings, but I just think unless I have been contacted I don't think it's got any credibility."
Earlier this month Kate revealed she "could probably forgive Madeleine's abductor".
Speaking ahead of May 12, which would have been Madeleine's tenth birthday, she said: "There are moments when you despair, but they are infrequent now. As someone said: It's not that your burden gets any lighter. It's just that your legs get stronger. That really sums it up."
There have been numerous reported sightings of Madeleine through the world. In 2007 photos of a blonde child being carried in a sling by a woman in Morocco prompted excited speculation she had been found.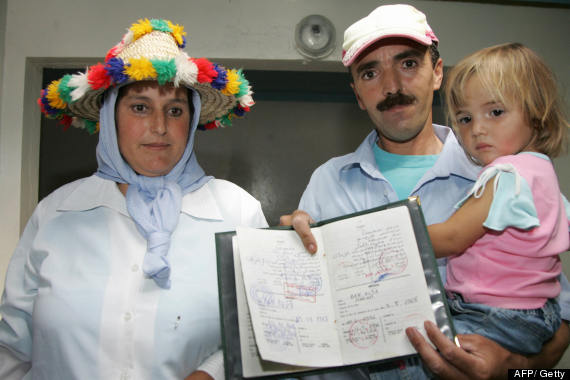 Bushra Binhisa - who was mistaken for Madeleine - with her parents and her family's registration certificate
It quickly emerged the little girl - named Bushra Binhisa - was the daughter of an olive farmer of Berber extraction.
In July a British woman spotted a youngster "bearing a remarkable likeness to Madeleine" at a market in the northern Indian town of Leh.
There have also been reported sightings in Portugal, Belgium and France, but none have produced any firm leads.
In February a DNA sample from a young girl in New Zealand who had been mistaken for the missing child was sent to Scotland Yard.
It was later confirmed the voluntarily provided sample did not provide a match.
The family will mark the anniversary of Madeleine's disappearance with a service in Rothley, they said, and do not really have any other plans.
They said various markers in their daughter's life were difficult, even as the years passed, including her birthday on May 12.
"Her birthday is difficult," said Kate. "We both find that more difficult really because it's her special day and we should be there celebrating it and we still do.
"We still celebrate her anyway, and the same will happen this year, we have a little birthday tea and a cake.
"That's a much harder day for us really."
She said their twins Sean and Amelie, who were just two when their sister went missing, were coping well.
"They have coped amazingly well and in many ways they are no different to any other eight-year-old child.
"They have grown up knowing that Madeleine is missing, she is their big sister, we're trying to find her and she should be back home with us.
"Any question they have put to us we have answered and that's all we can carry on doing. Communication and information makes anybody feel more comfortable.
"At the moment they are doing brilliantly.
"As they get older and they wander on the internet and other things, there will be more questions, but going by how things have panned out so far I think we will be alright, I think they'll handle it well."
The couple urged people to remain vigilant and to report any sightings to police.
Gerry added: "I think it's still about being vigilant and to remind people that we are looking for a 10-year-old girl, and not a three/four year old at the time.
"But if they have any information, they think they have seen someone who could be Madeleine, then the route is to contact the police."
Kate added: "I think to encourage everybody, it's six years on, but the way the Met review is going is really positive and with that, new hope.
"The search goes on, in a major way."