Britain will double military support for Syrian rebels to help them withstand the "onslaught" from Bashar Assad's regime, David Cameron has said.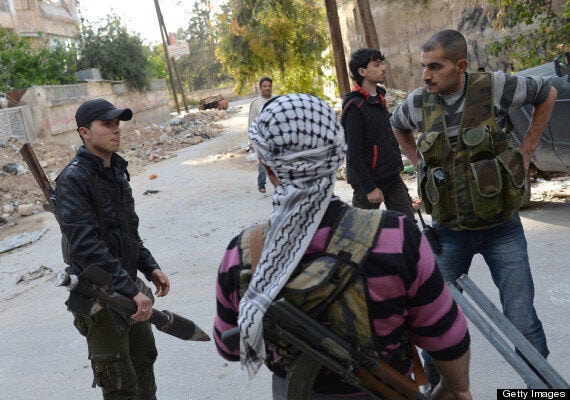 President Obama spoke of the 'enormous challenges' in getting a peace process moving in Syria
He also suggested Russia could be ready to participate in a peace process, saying there was "real political will" to find a solution.
However, the president struck a significantly less optimistic tone on the prospects for diplomatic movement.
Although the US would be "very persistent" in pursuing a peaceful political transition, Mr Obama said: "I'm not promising it is going to be successful. Frankly, sometimes once the furies have been unleashed in a situation like we are seeing in Syria, it's very hard to put things back together.
"There are going to be enormous challenges in getting a credible process going, even if Russia is involved, because we still have other countries like Iran and we have non-state actors like Hezbollah that have been actively involved."
At the joint event in the East Room, Mr Cameron said: "There will be no political progress unless the opposition is able to withstand the onslaught and put pressure on Assad so he knows there is no military victory."
He said the UK would continue to press for changes to the European Union arms embargo, but would not be providing lethal weapons yet.
"We have not made the decision to arm opposition groups in Syria. What we have done is we have amended the EU arms embargo in order that we can give technical assistance and technical advice," he said.
"We will double non-lethal support to the Syrian opposition in the coming year. Armoured vehicles, body armour and power generators are about to be shipped."
"There is now common ground between the US, UK, Russia and many others that whatever our differences, we have the same aim: a stable, inclusive and peaceful Syria free from the scourge of extremism," Mr Cameron said.
"There's real political will behind this. We now need to get on and do everything we can to make it happen."
Mr Cameron also promised another £30 million of humanitarian assistance for those affected by the violence.
Mr Cameron flew to the United States for talks with Mr Obama ahead of next month's G8 summit in Northern Ireland.
The prime minister said the leaders had agreed to "tackle the scourge of tax evasion" by multinational companies.
He said: "When we meet on the shores of Lough Erne in Northern Ireland five weeks from today, I want to agree ambitious action for economic growth.
"Open trade is at the heart of this. But we have a broader agenda too: to make sure everyone shares the benefits of greater openness, not just in our advanced economies, but in the developing world too.
"I'm an unashamedly pro-business politician. But as we open up our economies to get business growing we need to make sure all companies pay their taxes properly and enable citizens to hold their governments and businesses to account.
"Today we've agreed to tackle the scourge of tax evasion, we need to know who really owns a company, who profits from it, where their taxes are paid.
"And we need a new mechanism to track where multinationals make their money and where they pay their taxes so that we can stop those that are manipulating the system unfairly."
During his day in Washington, Mr Cameron also visited FBI headquarters to see if there were any lessons to be learned.
Popular in the Community