The first evictions over the government's controversial "bedroom tax" are set to begin as notices and final demand letters are being put through the letter boxes of social housing tenants around the country.
A man suffering from acute depression and a grandmother with sciatica are both facing eviction, with Scotland's council being one of the first to crack down on arrears.
Jane McClements, 59, who was told to pay £17.33 a week more, told the Daily Record she couldn't find the money. She added that she needs the spare room so that when her sciatica flares up her husband can sleep in a separate bed.
"I feel like we are being victimised," she told the paper.
"It is nothing more than a tax on the poorest people in society."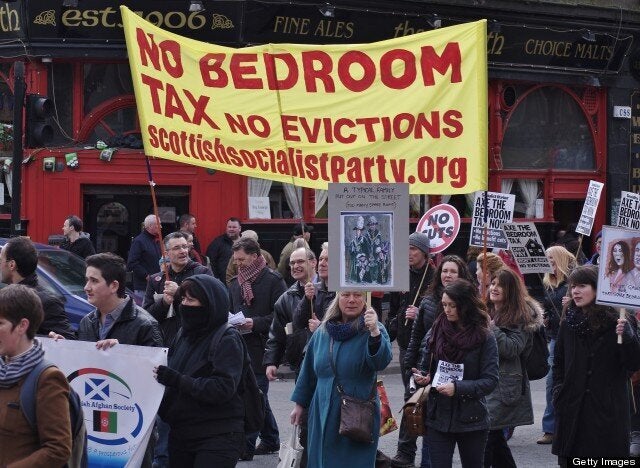 Some have insisted the bedroom tax unfairly discriminates against the disabled
Alan from Lanarkshire, who did not want to tell the Daily Mirror his full name, suffers from acute depression. He had a nervous breakdown in 2003 and his mother died by suicide.
He didn't even want two bedrooms but at the time he moved into social housing officials said there were no one bed houses available.
The High Court has already been asked to declare that the government's so-called "bedroom tax" unlawfully discriminates against disabled people, in 10 cases brought to illustrate the serious impact of the regulations up and down the country.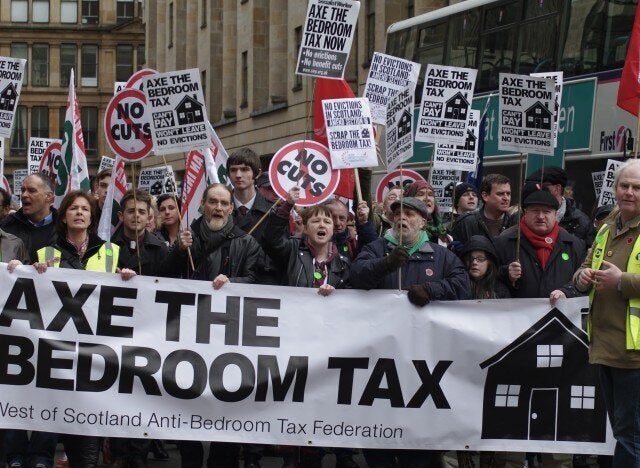 Labelled bedroom tax by its critics, the government insists it is a 'spare room subsidy'
One of the claimants lives with her husband in a two-bedroom housing association flat in Stockport.
She is severely disabled with Spina Bifida and has to sleep in a fixed position in a hospital bed with an electronic pressure mattress.
Another claimant is disabled widower Richard Rourke, with three bedrooms, who is now building up rent arrears.
He has a disabled stepdaughter at university who suffers from a rare form of muscular dystrophy and needs one of the rooms when she comes home during holidays and at weekends.
The other room is a box room he uses to store essential equipment, including a hoist for lifting him, a power chair and shower seat.
Another applicant, James Daly, from Stoke, is the father of a severely-disabled son who stays with him every weekend and at least one day during the week, as well as part of the school holidays, and when his mother is away.
Separated from his wife, Mr Daly occupies a two-bedroom flat but is deemed to be over-occupying the property by one bedroom - his son's room.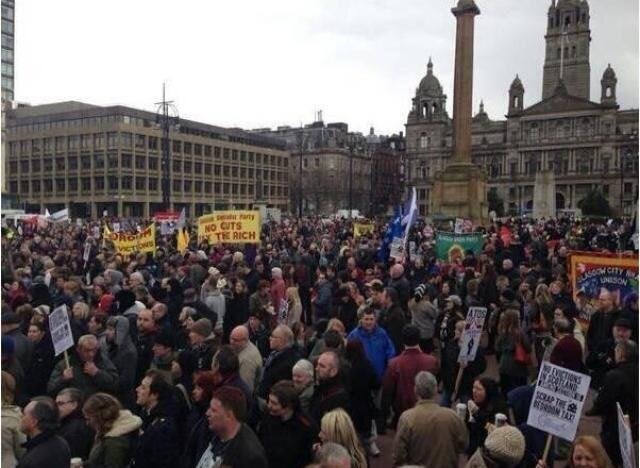 Hundreds attended a protest in Glasgow over the bedroom tax in March (pic via @ScrapTrident)
More than 25,000 people applied for discretionary housing payments (DHP) to help cover their rent in April, compared with 5,700 in the same month last year, according to an analysis of 51 councils by The Independent.
Councillor John Cotton, cabinet member for equalities, told the newspaper: "It's a situation like the 1930s here in Birmingham.
"We are a city that has a hill to climb in terms of deprivation. With the impact of changes like this, the hill just got even steeper. It's putting more and more pressure on vulnerable communities."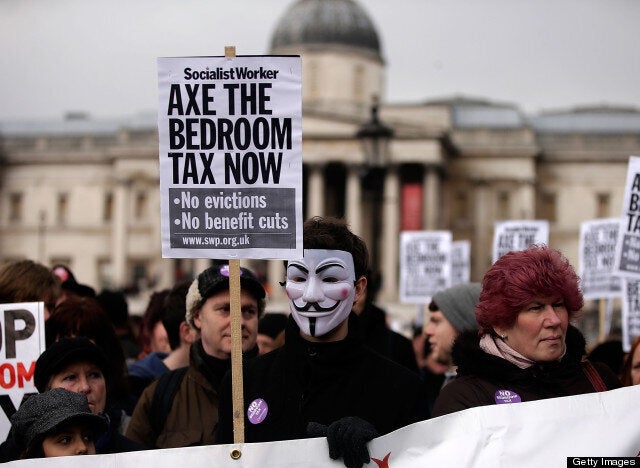 There have been widespread protests throughout the country
A grandmother who killed herself earlier in May blamed the bedroom tax for her death.
Stephanie Bottrill, who killed herself earlier this month, wrote in her final letter: "I don't [blame] anyone for me death expect [sic] the government."
Just days before she died, the 53-year-old, from in Solihull in the West Midlands, told neighbours she simply could not afford to live any more.
Her family told the Sunday People she was tortured about how she would afford the £20 extra a week for the two under-occupied bedrooms in her home - money she owed because of the government's spare room subsidy policy, the so-called "bedroom tax."
A Department of Work and Pensions (DWP) spokesman said officials were "monitoring" the situation to ensure that those who needed support received it.
The new regulations, introduced on April 1, led to reductions in housing benefit payments to social tenants assessed to be under-occupying their accommodation.