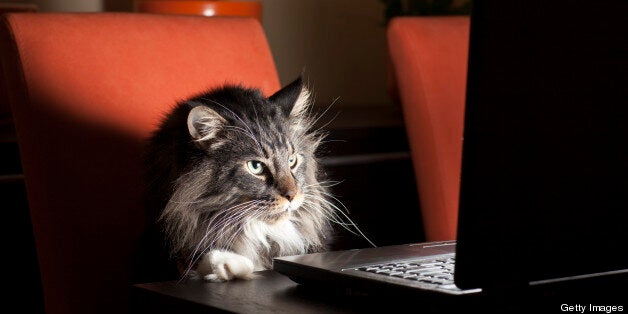 Somebody's launched a social network for pets.
Yes, that's right - now that we have Facebook, Twitter and a thousand niche dating networks and connection websites, the only thing left is to sign up our domestic animals, give them passwords and then turn off the internet for good.
The site - YummyPets - is designed to be a "social network" exclusively for pets and their owners.
It's not a new idea - several sites such as MySocialPetwork have already been launched in the UK.
But YummyPets does have pedigree (boom boom). It launched in France more than a year ago, and now apparently boasts 150,000 members, with 500 pets joining every day.
The press release for the site's launch here in the UK quotes its founder as (sigh) 'Leo the cat'.
"I thought that the great pets of Great Britain should have the chance to join the social media world and interact as part of a community that knows them best."
The site includes features such as classified pet ads (to donate, buy and sell pet products), missing pet notices, instant messaging (for owners) and discussion forums.
It also includes "memorial pages" so that owners can pay tribute to lost pets.
As far as we can tell, despite the marketing bluster there is no way for pets to actually use the network themselves. We assume cats would use it to share grooming tips, hold passive agressive video chats and hunt down rivals, and that dogs would use it to stare blankly at the screen before making a "bhoou?" sound and wandering off in search of morsels.
Related