 Leeds council has confirmed it will reclassify hundreds of rooms in council houses in a bid to help residents avoid the so-called "bedroom tax."
Across the city 837 houses will have their bedrooms reclassified as non-specific 'rooms', the council said. This will allow residents to avoid their benefits being docked under what the government insists is a "spare room subsidy" not a tax.
Labour Councillor Peter Gruen said the move had been prompted in part by welfare changes as well as "looking at ways to help all tenants across the city."
Labour MP for Leeds North Fabian Hamilton told the Huffington Post UK the bedroom tax was "outrageous" and he was glad the council had come up with a creative solution.
He said: "I think anything done to help hard-pressed families and couples is welcome. This bedroom tax, and it is a bedroom tax and not a spare room subsidy, is an outrageous reorganisation of benefits.
"It's a tax on you for daring to have a spare room, for your children, or grandchildren. There are couples that need to sleep separately and legitimately need that spare room.
"It is such a shocking tax and I'm glad Leeds has come up with a creative solution. I've no doubt the government will attempt to outlaw it immediately."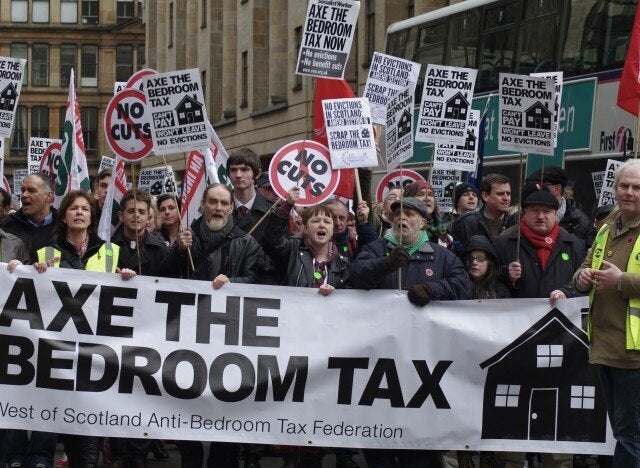 Labelled bedroom tax by its critics, the government insists it is a 'spare room subsidy'
However Conservative Councillor Barry Anderson told the Yorkshire Post: "The decision is a poor one that appears to have been rushed through with no real thought other than to avoid spare room subsidy payments."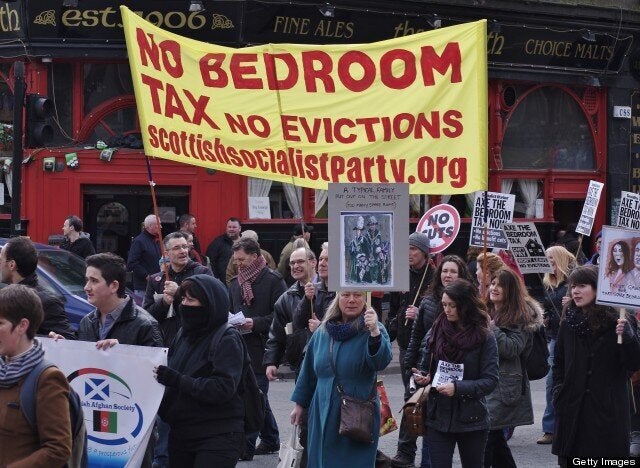 Some have insisted the bedroom tax unfairly discriminates against the disabled
The controversial tax has come under attack for many reasons, with some campaigners arguing that it discriminates against disabled people, while others simply saying it is uneconomic.
The BBC reported that new figures from councils in the East Midlands showed a dramatic rise in the number of people applying for emergency financial help to avoid eviction.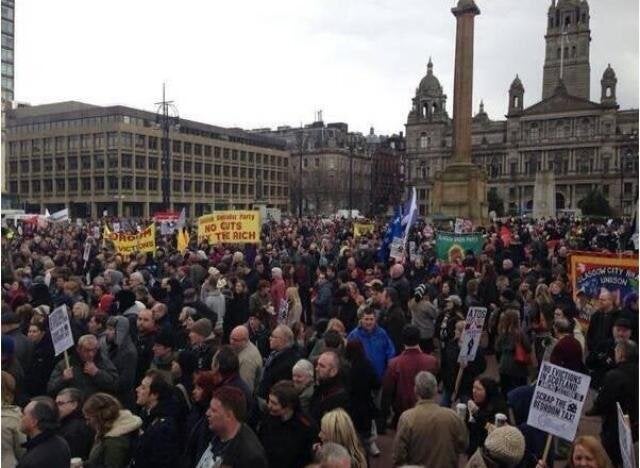 Hundreds attended a protest in Glasgow over the bedroom tax in March (pic via @ScrapTrident)
The High Court has already been asked to declare that the government's so-called "bedroom tax" unlawfully discriminates against disabled people, in 10 cases brought to illustrate the serious impact of the regulations up and down the country.
On Wednesday the Labour Housing Group published a list of policies as part of its One Nation Housing manifesto.
As part of that it suggested The "bedroom tax" should be ended "in favour of a new national plan to tackle under-occupation based on incentives and a stronger ground for possession with a right to suitable alternative accommodation.'
A DWP spokesman told the Huffington Post UK: "Our reforms to housing benefit will ensure a better use of our housing stock - a priority when there are almost two million households on the social housing waiting list and over a quarter of a million living in overcrowded homes.
"We have provided councils £150million for Discretionary Housing Payments this year to support vulnerable people and councils may choose to redefine some properties, but we don't expect this to be widespread."