The little boy was found stuck head first in a 10cm diameter pipe beneath a squat toilet in Jinhua City, eastern China, on Saturday.
He was saved by fire crews who cut through the section of pipe and then used pliers and saws to tear it open. The child - named Baby 59 after his hospital incubator - has been discharged into the care of his mother
Initial reports suggested the child's mother could face charges of attempted murder.
But Chinese authorities have confirmed she will not face criminal charges after it was revealed she raised the alarm and eventually identified herself to police, two days later.
The unmarried 22-year-old kept her pregnancy secret and gave birth unexpectedly, AFP reported.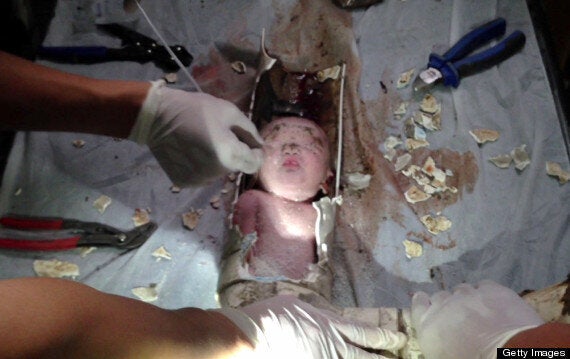 The newborn sustained cuts and bruises during his ordeal
State-run newspaper Dushikuaibao reports the woman was present for the rescue but did not identify herself until she was confronted by police who grew suspicious after finding baby toys and blood-stained tissues in her rented room.
The baby was hospitalised with cuts to his face and limbs and has now been released into the custody of his mother and a man claiming to be his father, the Guardian reports.
The newspaper quotes an official as confirming the mother will not be supervised by social workers, adding: "The baby returns to her. This case is done." The little boy's feet are seen poking out the top of the squat toilet
His rescue prompted an outpouring of well-wishers donating nappies, clothes, powdered milk and offers to adopt him.
The official continued: "Even if some other people wanted to adopt this baby, since his mother is still there it would be a very complicated and hard process for other people to adopt him.
"This case shows our child protection law is struggling … If the children have parents, the government prefer to ask their parents to take the responsibility. The local government does not have enough funding to establish a social security system to help those children, when their parents are not doing a good job."
According to the Associated Press, the man claiming to be the little boy's father has requested a paternity test and - if the baby is his - is ready to discuss with the woman how to support the child.