The Catholic Church's leading exorcist says he will ask Pope Francis to grant all priests the power to perform the ritual amid what he describes as "a huge demand" for the service.
Father Gabriele Amorth, who claims to have carried out 160,000 exorcisms himself, says he was prompted to make the request after witnessing what he insists was the Pope carrying one out in St Peter's Square earlier this month.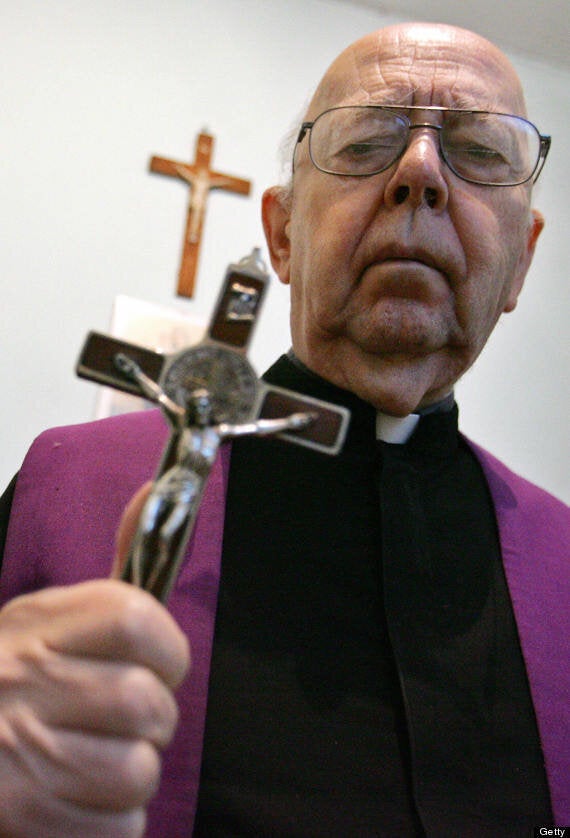 Father Gabriele Amorth claims to have performed 160,000 exorcisms himself
The boy, who was accompanied by a priest, appeared to convulse, with his mouth dropping wide open before exhaling deeply. (Scroll down for video.)
The Vatican played down reports Francis had applied the religious practice of evicting demons, with a spokesman claiming the Pope "didn't intend to perform any exorcism."
He said: "The Pope's exorcism is a splendid sign because one of the main causes of today's atheism is that people don't believe in the Devil any more. But Jesus said: 'Who is not with me is with Satan.' If you don't believe in Satan, Satan has got you in his pocket.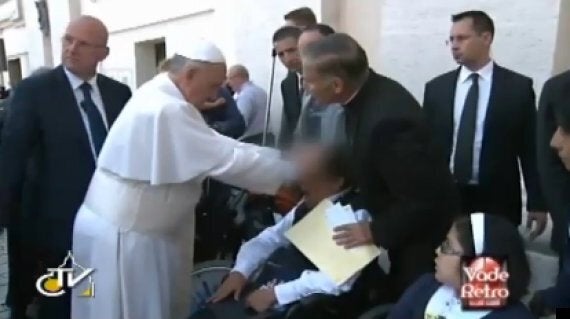 Pope Francis was filmed after a Pentecost Mass earlier this month
"The priest told Francis: 'Look, this is a young man who is possessed by the Devil.'
"And the Pope blessed him and prayed over him, it was a real and proper exorcism. The Pope prayed that the Lord liberate this man. It was a prayer of liberation."
The 88-year-old, who is the head of the International Association of Exorcists, told Italy's La Repubblica newspaper: "The Pope is also the Bishop of Rome, and like any bishop he is also an exorcist.
"It was a real exorcism. If the Vatican has denied this, it shows that they understand nothing.
"We live in an age in which God has been forgotten. And wherever God is not present, the Devil reigns."
Last year the Catholic diocese of Milan created a special exorcism hotline to cope with demand for the service.
Monsignor Angelo Mascheroni, the diocese's chief exorcist since 1995, told IncrociNews: "We get many requests for names, addresses and phone numbers; that's why we've set up a switchboard in the curia from Monday to Friday from 2.30pm to 5pm."
Exorcism is (1) the act of driving out, or warding off, demons, or evil spirits, from persons, places, or things, which are believed to be possessed or infested by them, or are liable to become victims or instruments of their malice; (2) the means employed for this purpose, especially the solemn and authoritative adjuration of the demon, in the name of God, or any of the higher power in which he is subject.
Amorth's comments come as the Vatican was forced to clarify atheists will still go to hell if they reject God – after Pope Francis broke with tradition to deliver a homily stating non-believers who do good will be redeemed through Jesus.
The Pope's words made headlines around the world after he gave an unprepared speech in which he emphasised the importance of "doing good" as a principle which unites all humanity.
After international media attention, the Vatican attempted clarify how exactly one gets in to heaven, with Rev. Thomas Rosica, a Vatican spokesman, saying that people who know about the Catholic church "cannot be saved" if they "refuse to enter her or remain in her."
That is, atheists are still going to hell.
However there was still hope for the sinful among us, as "every man or woman, whatever their situation, can be saved. Even non-Christians can respond to this saving action of the Spirit. No person is excluded from salvation simply because of so-called original sin."