English Defence League leader Tommy Robinson is doing "great work", according to a Fox News presenter who interview the controversial anti-Islam activist, causing horror among anti-fascist activists.
As the interview closed, after Robinson described a "takeover" of Sharia law in Britain and said police treated Muslims like "a master race", presenter Brian Kilmeade voiced hearty approval of Robinson's sentiments.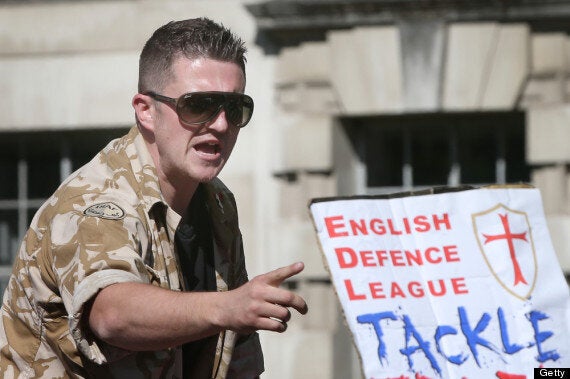 English Defence League leader Tommy Robinson speaks to supporters during a rally outside Downing Street
Kilmeade read out the address of the EDL's website and Twitter accounts after saying: "Tommy, we got your back and we'll definitely look to keep in touch, it's great what you're doing."
Hope Not Hate director Nick Lowles told HuffPost UK said the channel "obviously doesn't know who the EDL leader is.
"If they did they would know his name was Stephen Lennon and he has several convictions for violence, including being imprisoned for attacking a police officer.
"I would like to think that if they knew about the EDL then they would know that its supporters have been involved in murders, arsons and violent assaults. However, Fox News has a track record of providing platforms for the so-called 'Counter-Jihad' movement and Islamophobes and so their understanding of the EDL leader is depressingly predictable."
Faith Matters director Fiyaz Mughal, who co-ordinates the Islamophobia monitoring group Tell Mama, has appeared on news programmes with Robinson. He told HuffPost UK: "Tommy Robinson, seems to be an angry young man whose fixation on Islam and Muslims is not healthy for communities, nor for himself.
"Whilst pleasant and courteous, he nonetheless is part of the ratcheting up of tensions through his far right group."
Robinson has been arrested on numerous occasions for violent disorder, the first time for assaulting a police officer who was trying to break up a domestic dispute between him and his then-girlfriend.
He said in his Fox News interview: "There's a two-tier policing system developed in our country where Islam is treated like a master race. So we started taking to the streets, we had no other option but to take to the streets.
"We have to combat Islam sharia law, Islamist extremism, Muslim paedophile gangs and the conspiracy of political leaders, religious leaders and police leaders to facilite paedophile gangs, due to political correctness.
"There's been scaremongering, giving us a bad reputation for years. We are not asking for all Muslims to leave the country. We're not going to tackle it by appeasing it or brushing it under the carpet."
Kilmeade asked incredulously if Robinson was "armed" when he goes to demonstrations, but Robinson said he had "no security".
Author and documentary maker Nick Ryan, a far-right expert, called it irresponsible journalism.
"It's all too easy to mainstream those such as Tommy Robinson, an individual who uses multiple aliases, has convictions for violence and fraud, and who leads an organisation which has had scores of its members arrested and jailed for violent offences.
"The EDL and Robinson [Stephen Lennon] thrives on the air of publicity, just like Nick Griffin of the BNP and Anjem Choudary of al-Muhajiroun.
"Poll after poll shows voters turned off by violence and confrontation, and until the Woolwich murders the EDL was more or less finished. Journalists would do well not to hype hatred."
The Islamic Society of Britain's Julie Siddiqi told HuffPost UK she thought Fox News was probably well aware of Robinson's reputation and character. "It's shocking but perhaps not surprising. They should know that this is not representative of Britain, most people are completely against everything the EDL stands for."
Many media outlets, including the BBC and Channel Four, have been criticised for offering Robinson a platform.