Nick Clegg should have ordered a formal inquiry into allegations of sexual harassment against former Liberal Democrat chief executive Lord Rennard, the author of an independent report into the party's handling of the complaints said.
Helena Morrissey also singled out Lib Dem ministers Jo Swinson and Danny Alexander for adopting an informal approach to the allegations which was "ultimately not sufficient".
Deputy Prime Minister Mr Clegg said Ms Morrissey's report made for "sobering reading" and he took responsibility for the lack of the correct processes to support the women who had come forward to make the allegations.
Businesswoman Ms Morrissey said: "I think mistakes were definitely made. They were made by Nick Clegg, Danny Alexander and Jo Swinson.
"I think you can make a mistake and learn from them, it's different from setting out to mislead or to do something wrong."
Four women made allegations against Lord Rennard, but Ms Morrissey said her review also uncovered wider examples of "low level sexism" and a "relucatance to investigate" within the party.
Scotland Yard is investigating allegations against the peer and an internal Lib Dem investigation has been put on hold pending the outcome of the police inquiry.
Responding to questions about Mr Clegg's role, Ms Morrissey said: "I think that he did make a mistake by not asking for a formal investigation.
"But I understand as well why he was under the impression it was being dealt with the way the women wanted."
There was "little evidence to suggest a conscious attempt to cover up problems", Ms Morrissey's report found.
"Instead, there has been a tendency for the party to try to 'handle' complaints rather than to fully and properly investigate them in a timely, professional manner," the report said.
"Individuals appear to have been generally acting in good faith but without realising the importance of adhering to process or being aware of the processes in place.
"While this may appear a benign mistake, it has caused problems to fester unresolved, to the detriment of all involved."
Ms Morrisey also noted the complicated structure of the Lib Dems noting that "the picture alone tells the story".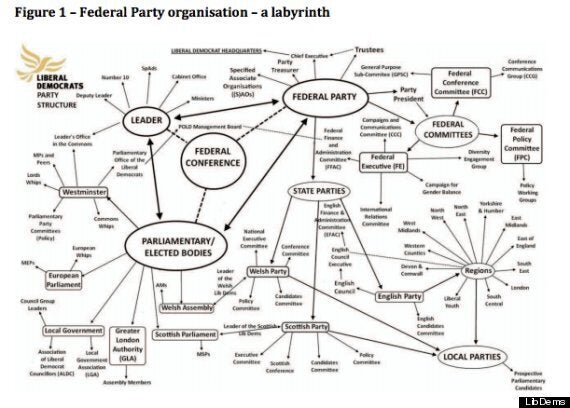 Mr Clegg said he would implement all the recommendations made in Ms Morrissey's report "without delay" and had asked her to check on progress in 12 months.
He said: "I'm very grateful to Helena Morrissey for her very thorough report.
"It makes sobering reading. It shows that stretching over a 20 year period a series of mistakes were made which left a number of women feeling seriously let down and for that there is absolutely no excuse whatsoever.
"The report also shows that the individuals who dealt with their complaints had the right motives, but there weren't the right processes in place to support the women who'd come forward. And as Leader of the Liberal Democrats I take responsibility for that.
"That's why we've made a number of big changes in the party in recent years and why we must and will do more.
"Let me be clear: the Liberal Democrats must be a party where even a hint of sexism is taken seriously; where every allegation of harassment is dealt with properly; and where there can be no fear that power or position can be abused.
"Helena Morrissey herself confirmed that we have made significant steps in fixing these problems and she confirmed that there's no cover up of any error or wrongdoing.
"But she's right to say that there's more we should do and that's why we must now speed up the process of change within the party.
"It's why I can confirm that we will implement all her recommendations - in full and without any delay.
"It's why I've asked Tim Farron, the President of the Liberal Democrats, to tell me how and when these changes will occur, and Helena Morrissey herself will come back in a year to check on the progress that we've made.