Tim Haries, 41, from Doncaster is alleged to have smuggled a can of spray paint into the abbey yesterday before defacing the picture.
He appeared at Westminster Magistrates' Court charged with criminal damage of more than £5,000. The painting, by Ralph Heimans
Asked by the court to enter a plea, Haries, of Bellis Avenue, said he was "not in a position" to at that moment.
He was released on conditional bail until the next hearing, at Southwark Crown Court on June 28, but banned from London in the meantime.
The painting, by Ralph Heimans, which was put on public display last month, was damaged with paint yesterday lunchtime.
The work, valued at around £160,000 and called The Coronation Theatre, Westminster Abbey: A Portrait Of Her Majesty Queen Elizabeth II, has been removed from public display for repairs.
Immediately after the damage was done, a picture was taken and the image was uploaded to the internet.
Haries allegedly shouted 'Fathers4Justice!' when he was arrested.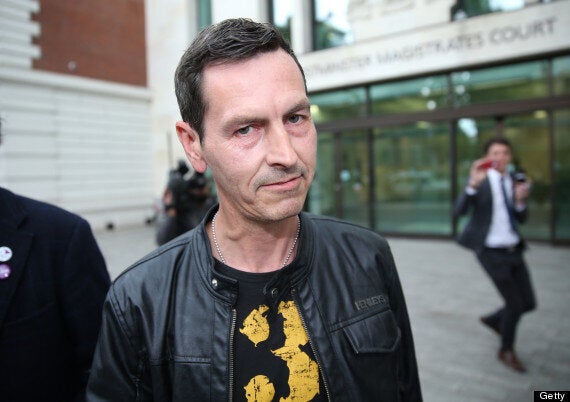 Tim Haries leaves Westminster Magistrates Court
Chief magistrate Howard Riddle released Haries on conditional bail at the end of the 12-minute hearing, but said he must stay outside the M25 after police raised concerns that he would join an apparent Father's Day
protest in the capital planned for Sunday.
Haries was supported by at least one Fathers4Justice activist in the public gallery, although the group said the act at Westminster Abbey was not an official protest.
The portrait was designed to commemorate the Queen's Diamond Jubilee and had only been on display in the Chapter House for a few weeks before it was vandalised.
Haries made no comment as he left the court and got into a taxi waiting outside.
Popular in the Community