David Cameron is facing rumblings of discontent in his own party and among coalition colleagues over action being taken to aid the Syrian opposition, with the Lib Dem's Nick Clegg insisting his party do not believe it is the right action to take, at present.
Deputy PM Clegg made it clear on the BBC's Andrew Marr Show on Sunday morning that he remain unconvinced about arming Syria's rebel forces.
Asked about the US's decision to arm the Syrian opposition, Clegg said: "We need to work in constant with our allies, we don't need to do the identical thing.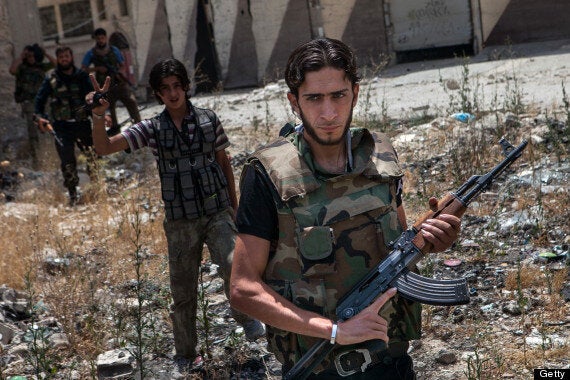 Syrian rebel fighters belonging to the 'Martyrs of Maaret al-Numan' battalion leave their position after a range of shootings in the northwestern town
"We are providing non-lethal assistance, we have taken no decision to provide lethal assistance, but we clearly don't think it is the right thing to do now otherwise we would have decided to do it.
"We're trying to strike the right balance between playing a part with other allies but not embroiling this country in military conflict in a way I don't think would be acceptable to the British people."
When pressed on whether he would vote in favour of arming the rebels, Clegg repeated: "At this point we are not providing arms, and if we wanted to we would do it. We are not putting it to the House of Commons because we haven't taken that decision, the discussion is academic.
"This is not like Iraq at all, or Libya for that matter, this is a bloody civil war being prosecuted by a brutal dictator. The idea there is a unilateral British military solution to this is fanciful."
Cameron is set to meet Russian President Vladimir Putin for talks on the Syrian crisis amid fears that differences between Moscow and the West are pushing the two sides towards a new Cold War.
The meeting, on the eve of the G8 summit in Lough Erne, comes as President Barack Obama is preparing to arm the rebels, saying the US administration was convinced the Syrian regime had used chemical weapons against its own people.
Syria is expected to be high on the agenda of the world leaders, along with issues surrounding terrorism and tax havens.
Putin has made no secret of his opposition to any move by the West to supply arms to the Syrian opposition.
The Prime Minister was asked if it was "copper-bottomed" that Parliament would be given a vote. "Basically yes, we've said that," Cameron replied, but when probed on whether parliament could refuse to arm the rebels, he continued: "We haven't made a decision, so the whole issue doesn't really arise. But I supported having a vote on the Iraq war."
UK forces have joined the Americans in neighbouring Jordan, something Clegg insisted was for "training exercises" and to provide non-lethal support to the rebels. Around 130 Royal Marines have joined 4,000 US soldiers, while a Royal Navy helicopter carrier with 1,000 marines will sail to the region for a further exercise this summer, according to The Sunday Times.
Liberal Democrat Cabinet minister Danny Alexander indicated that his party was likely to be wary about arming the rebels.
"Speaking personally and as a Liberal Democrat, the test I would apply is, is any proposed action actually going to make a difference? I don't think the case is proven yet," he told Channel 4 News.
"We are going to debate that in the Government over the coming weeks and we will see what conclusion we reach."
Former Lib Dem leader Lord Ashdown said it would be "an act of very considerable folly" to start arming the rebels.
He warned that the West risked being drawn into a wider sectarian struggle between Sunni and Shia Muslims who are backed by Iran and Russia.
"This not about Syria. We think Syria is the issue, it's not. It's the front line in a much, much wider struggle," he told the Murnaghan programme.
"The issue now is not tackling the Great Satan of the West, it is preparing for a war against the Great Heretic in Tehran.
"We are now being inadvertently - and stupidly in my view - instrumentalised into supporting the Sunnis on the one hand while the Russians are being instrumentalised into supporting the Shias.
"I don't believe that it is sensible for us to be contributing to that process."
For Labour, shadow foreign secretary Douglas Alexander said there was "unease" across Westminster at the prospect of supplying arms to the rebels.
"For months Labour has called on the Government to answer basic questions about their approach, such as how would the Prime Minister ensure that weapons supplied did not fall into the wrong hands and how would this step help to de-escalate the conflict rather than prolong it?" he said.
Popular in the Community