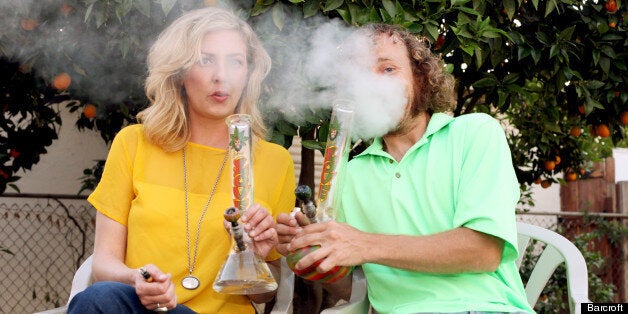 A GROUP of weed-smoking mums who meet for lavish cannabis-infused lunches say taking marijuana is making them BETTER parents.
The get-togethers are part of a new craze for medicinal marijuana parties - which are legal in California, USA.
Mum-of-two Cheryl Shuman, 53, hosts posh dinners each month in Beverly Hills where friends can try new strains of the drug after a meals containing pot leaves and cannabis oil.
And the women, who use the drug to ease conditions such as arthritis, believe marijuana use should be legalised EVERYWHERE.
January Thomas, 37, smokes marijuana up to five times per day while looking after her 2-year-old daughter, Zeena.
The part-time bar tender even takes Zeena to 'hemp rallies' with fiancé Magic Ellington - who goes by the name Henry Hemp.
January, who smokes marijuana to cope with early onset arthritis, said: "Marijuana makes me a better and more creative parent.
"It puts me in the moment with Zeena and stops me worrying about everyday problems."
January Thomas: "I want her to understand the benefits of cannabis so I read her books like Mommy's Funny Medicine and It's Just a Plant, to teach her."
January, who uses a bong to take the drug, swaps cannabis recipes with the other women in the group.
Entrepreneur Cheryl started the meet-ups after overcoming ovarian cancer in 2011, which she partly attributes to taking marijuana oils to ease her symptoms.
Enlisting the help of top Beverly Hills chef David Schanhals, Cheryl got together a group of friends who were all medicating with the plant.
She said: "Seeing how medicinal marijuana helped me when I thought I was going to die made me realise how much good it can do.
"All the women in the group suffer with chronic aches and pains and taking cannabis in a group setting makes it seem more socially acceptable.
"We've all come up against people who say marijuana is for dirty druggies, but we are proof you can be good parents and productive members of society and use it.
"I like to think we are bringing some glamour and exclusivity to marijuana use.
"In the Sixties there was 'mother's little helper' pills which gave stressed-out women a bit of extra pep.
"Taking marijuana is just the same, it helps us get through the day."
MORE ON HUFFPOST UK LIFESTYLE:
Cheryl's lavish dinners include cannabis leaf salad, chicken fried in cannabis oil and marijuana milk shakes.
And after dinner the women can sample a range of cannabis strains to see which works best for them.
Simmi Dhillon, 40, credits marijuana with saving her marriage after being close to divorcing her police officer husband of 14 years, Eric.
The mum-of-one sustained serious injuries in a car accident in 2003 which left her in chronic pain and medicating heavily with prescription painkillers.
She said: "When I found medical marijuana my life turned around. I was 37 and I tried a joint my friend was smoking - for the first time in years I felt human.
"I was able to be the wife I wanted to be once again and it saved our marriage.
"Now I can talk to my 10-year-old son about drugs and be completely honest about it.
"Before I was like a zombie on prescription medication - now he's got his mom back."
Now in remission from cancer, Cheryl hopes to turn legalised cannabis into big business - with plans to open a marijuana-themed private dining club.
She said: "It's only a matter of time before people see the benefits of this incredible plant.
"I predict marijuana will soon be legalised for recreational use and I want to create a luxurious place where people can enjoy it."
Click through the pictures for a look at the marijuana dinner parties...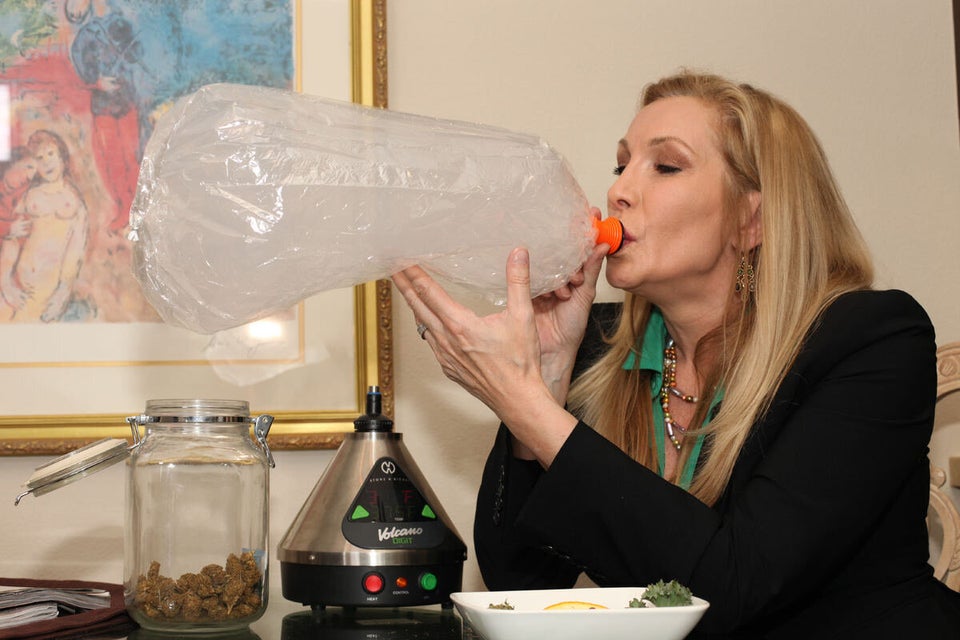 Alternative Parenting: Mothers Who Smoke Marijuana