Andrew Strauss is nervous. He is preparing for his fifth Ashes series but this time he won't be at the crease, in the slips or in the dressing room. Instead he will be in the gantry, where he will join Sky's pantheon of England captains, to offer his experience and analysis over five Tests and 46 hectic days.
But he is still nervous.
"It's going to be a really special few weeks for me," he says genuinely. "There certainly will be some nerves given I'm doing something new but not to the same extent I would have had if I was playing.
"An Ashes series is just so unique: the history and tradition of the Ashes series, the fact that the whole country gets behind you. You definitely feel that pressure as a player and no one particularly likes feeling that pressure, although often it can inspire you to perform better than you would otherwise."
Strauss enjoyed an auspicious record against Australia. Four centuries, a batting average of 39.47, that catch off Gilchrist and just eight defeats from 20 is a reflection of English cricket's rise midway through the last decade.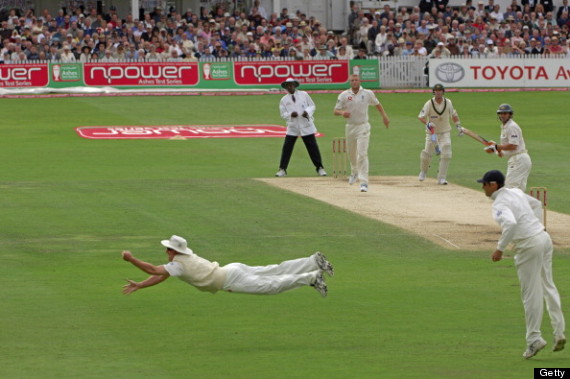 Struass claims the iconic catch of Gilchrist at Trent Bridge
It brought out the best in the 36-year-old, too.
"The century I scored in the final Test match of that 2005 series at the Oval was probably the best I scored in terms of pressure, and then the 161 I scored at Lord's in the second Test in 2009 was probably the best I played in terms of fluency and technique," he recalls fondly.
Forever fêted as the first England captain since Mike Brearley to lead them to back-to-back Ashes victories, regaining and retaining the urn dominates Strauss' tenure. England became the number one Test team in world cricket in 2011 and the work the South African-born batsman did with measured coach Andy Flower re-introduced harmony to the fold.
Once known as "PT" (posh t*at), Strauss' selflessness and natural leadership qualities have set the benchmark for future England captains after recent mistakes. His example set over three successful years made Alastair Cook, cut from the same cloth, the sole heir to replace him last summer.
Unfairly yet unavoidably, Strauss' legacy is also tainted by how it all ended. A loss of form (he scored just 107 runs in the three-Test series against South Africa last year) was compounded by Kevin Pietersen's frank views about his skipper, leaked to South African opponents via text messages.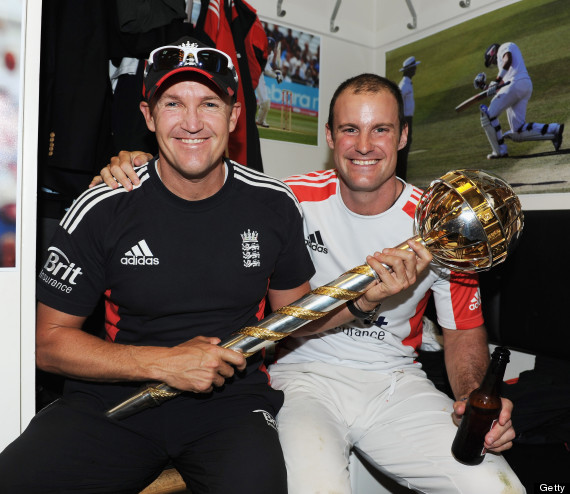 Flower and Strauss celebrate England's number one Test status in 2011
The summer of strife ended on a suitably disastrous note for Strauss, whose fourth day lbw dismissal at Lord's was an uncharacteristic example of misjudgement on his behalf.
Eerily, the South Africans' leader Graeme Smith had seen off a third counterpart on English soil, a fact Strauss was regularly reminded of before a ball had been delivered. But he is adamant the furore off the field which dominated those three matches last summer was insignificant.
"It was definitely the right time from a playing point of view," he assures. "From a batting point of view, from a captaincy point of view, in terms of the team needing to be refreshed and go forward, and also from a personal point of view, with two young kids and all that sort of stuff, it was exactly the right time. I've had no regrets and I feel very comfortable and happy to have been part of the England side for so long that achieved some pretty special things along the way."
Test Match Special recently asked followers on its Facebook page whether Pietersen "has overall had a positive or negative influence on English cricket". Not one of the 21 comments featured the word "negative", which is an indication of how the batsman's ingenuity continues to subordinate the baggage he brings with him.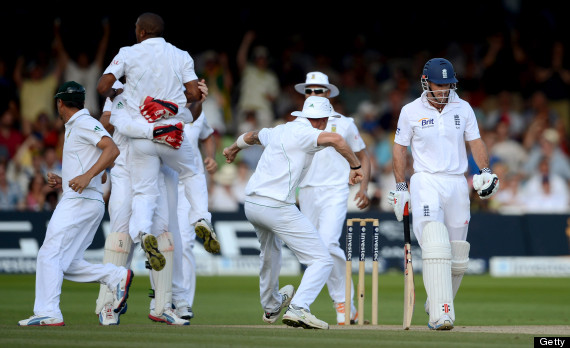 Strauss trudges off following his final first-class innings at Lord's
But how is Strauss' relationship with Pietersen now after "textgate"?
"It's okay, it's fine," he shrugs. "He came over to my house and he apologised for some of the things that went on, and I accepted that apology and we've seen each other a few times since.
"The truth is we've always got on pretty well, Kevin and I. We had a unique little period there where things got a bit fraught for all sorts of reasons but that's all forgotten and it's in the past.
"He's sucha a great player," Strauss beams. "I think every team around the world fears his presence on the cricket field and as long as the team environment's okay you definitely want someone like that on your side. England have been forced to deal with a few things as a result of that episode at Headingley and they've come out the other side stronger."
Come the end of August the verdict will be in on whether another team have come out the other side stronger. The chaos which has engulfed the Australian set-up makes England's summer shenanigans seem tame. A humiliating whitewash, mutiny, the knockabout-on-Walkabout and a sacking have hampered preparations for a crucial period in Australian cricket, as generations of England fans struggle to comprehend their downfall.
The last Ashes series on English soil was perhaps the beginning of the Austrlians' downfall. The aura they boasted throughout the 90s and well into the 21st century had significantly diminished. Instead of Gilchrist, McGrath, Lee and Warne it was Haddin, Hilfenhaus, Johnson and Hauritz.
Mickey Arthur's authoritative and public handling of "homworkgate" eventually led to his dismissal last month, despite the South African's best intentions. Plenty have argued setting individual assignments was a fatal flaw - rather than a group discussion - and Strauss believes Arthur was the architect of his own downfall.
"His sacking is an admission things have gone horribly wrong for them on a number of fronts. Their performances haven't been good, there have been disciplinary issues, character clashes and someone has to pay the price for that. Do you want that with two weeks to go before the start of an Ashes? Definitely not. It seems like the worst possible time to go through that. Sometimes making a definitive decision is the best way to go."
"As a captain I would have been pretty annoyed myself if we were trying to work out ways to get better and players weren't engaged in that process," he admits. "That would annoy me. But the last thing I would have wanted to do would have been to bring it all out in public, because you create a bigger problem than the one you're trying to solve, which is people questioning everything you do. You want to deal with these things within the four walls of the dressing room rather than the glare of the public spotlight."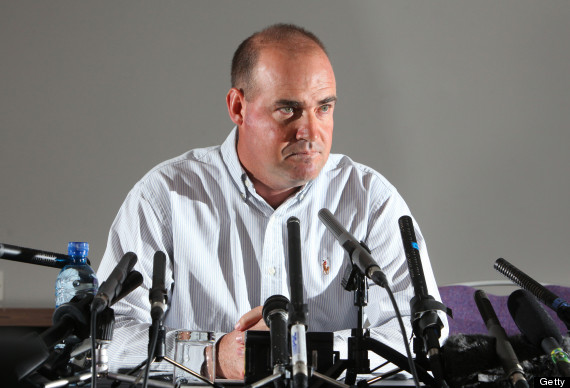 Arthur has been replaced by Darren Lehmann
Had Strauss ever had to deal with similar disciplinary issues?
"Oh we had all sorts of things that came up," he says. "Did we ever have a homeworkgate situation? No, probably not. But there are always disciplinary issues that you deal with in-house and you hope to address little problems before they become big problems and you move on. We're all adults and everyone understand that guidelines and rules shouldn't be broken but at the same time, you don't need to treat people like children to make that happen."
Maybe if Strauss was granted the responsibility he thrived under earlier England would have avoided the shambles which blighted their post-Ashes 2005 heroics.
Under Strauss and Flower, England were a calmer and serener unit than they were during Duncan Fletcher's tail-end and Peter Moores' disastrous innings between 2007 and 2009. Inexplicably, Andrew Flintoff and Kevin Pietersen - two of the most exciting yet egotistical English players in recent years - were tasked with captaining the team ahead of the more obvious Strauss.
Michael Vaughan's injury ahead of the 2006-07 Ashes led to Flintoff, 2005's man of the series,'s interim promotion. Yet the Preston all-rounder's nationwide popularity masked his unsuitableness as skipper, so was Strauss frustrated he was overlooked?
"When you look back at that situation he was the vice-captain, and having been appointed vice-captain he deserved to have a go when Michael Vaughan was injured," Strauss insists. "It would have been a big slap in the face for him not to be given that opportunity. In the end, it probably proved too much for him with the combination of being all-rounder and captain.
"But bear in mind, whoever was captain of that tour we would have lost. We weren't as good a side, Australia were very hungry and motivated and they made sure they won that series. I don't think it was anything down to the captaincy. We lost our captain, who was a hugely influential figure in the dressing room, Marcus Trescothick left the tour early on, Simon Jones wasn't there, Ashley Giles was just coming back from injury. Steve Harmison wasn't in nearly as good a form as he has been in 2005 and we weren't able to fill those gaps. We didn't have enough strength in depth for an England team."
The second Test capitulation under the pressure of Shane Warne's wizardry in Adelaide was the de facto clincher, according to Strauss.
"As soon as we lost that game there was no way back for the rest of the series, it was as good as over. The series was two weeks old and we might as well have been boarding the plane back home. There was no way we could turn it around."
England's first Ashes win in 16 years during that golden summer of 2005 culminated in an open-top bus parade and an intoxicated visit to Downing Street, where seamer Matthew Hoggard called prime minister Tony Blair "a k**b".
High on drunken giddiness, England, as they would go on to display six years later, had peaked. Does Strauss cringe at the festivities on Trafalgar Square? Strauss parties with Pietersen, Trescothick, Jones and Hoggard
"God no!" he exclaims. "That's why we did it! It had been so long since we had won the Ashes and for a lot of people they felt like we were never going to do it again, and if you don't celebrate your victories then what's the point in playing sport?"
Did it not contribute to the complacency which followed?
"That's a very easy conclusion to draw. Maybe we did get a bit comfortable, that is a fair accusation but look at the facts: when we played the next series against Australia, four or five of those 11 players were no longer in the team through injuries, we were a far weaker side and Australia, in their own conditions, are always going to be a huge nut to crack and won fair and square."
Strauss wrote in The Sunday Times recently about the immortal art of sledging during Ashes series. "Retarded" kids, f******g tea parties, family jibes and more insults have been hurled between the wickets and Strauss was once in danger of becoming Shane Warne's bunny. Memorably bowled at Edgbaston eight years ago, a "bunny" is cricket terminology for a higher order batsman who is frequently dismissed by the same bowler. Warne began calling Strauss "Daryl", after his cherished bunny, Cullinan.
The spin-bowler excelled at the art of clean sledging (to Paul Collingwood in 2006: "You got an MBE, right? For scoring seven at the Oval? That's embarrassing."), but which profane outbursts have stayed with Strauss?
"There's nothing really repeatable, to be honest!" he replies after a Pinter pause. "It's not that Australians are keener on sledging more than anyone else but the dominant sides find it easier to apply pressure. So when we were winning in Australia comfortably in 2010/11 there was no sledging from the Australians at all."
"Jimmy Anderson was giving as good as he got and there was more sledging from us than them, that's the reality of it. Sledging comes in when you are asserting yourself on another team and usually it's the dominant team that is able to do that."
One player who will not get a chance at some "verbal intimidation" is Nick Compton. Dropped from England's warm-up match with Essex this week, he has since been described as "distraught" and claimed the selectors have not given him a "fair crack of the whip".
Strauss, however, reckons Joe Root is a "ready-made opener" despite his experience and is "concerned" if Compton is re-selected to open with Cook.
"Nick Compton's the most vulnerable because he hasn't been in great form the last couple of test matches. In Joe Root, England have got a ready-made opener who is waiting there.
"Having seen him, I would be worried by seeing how [Compton] played at Headingley. From what I've seen, there are things there that I would be concerned about."
Cricket's variables make a whitewash "unrealistic", according to Strauss, who skippered his country to two 3-1 victories. Glenn McGrath, whose wont in his playing days was to predict 5-0 Australian wins, believes the series will be "much closer than people think". Strauss suggests only Michael Clarke could force his way into England's XI.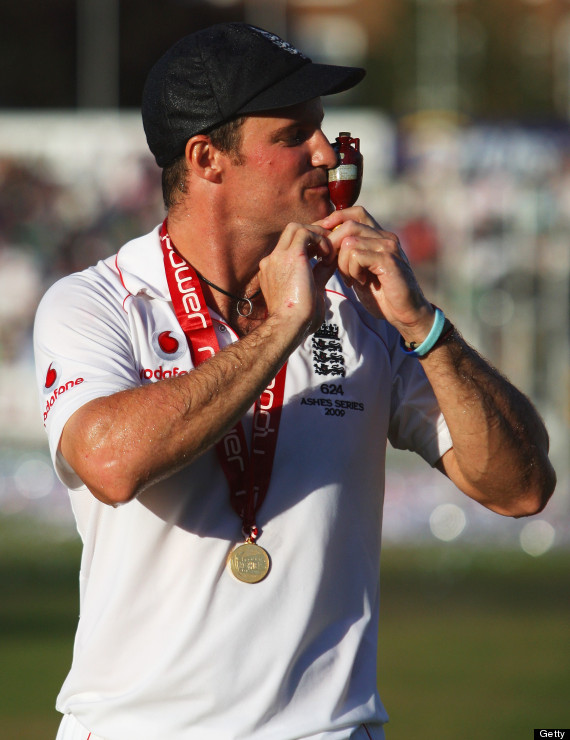 Strauss kisses the urn in 2011
"The huge question remains is how Australia will deal with Arthur's sacking," he opines. "Is that going to inspire them? Is that going to be a breath of fresh air or is it going to further create divisions inside? But we will see pretty soon into the first couple of days into the series, maybe even before that."
Cook, similarly to Strauss, goes into an Ashes series as captain less than a year after his appointment. The success in India last winter was an outstanding achievement after 30 years of draws and defeats in South Asia, as the 28-year-old passed the proverbial baptism of fire test.
In spite of Australia's disarray, Strauss maintains they are the barometer for England to measure their progress against.
"The Ashes series is ultimately how you're judged as an England captain and as an England side. It's that biannual health of England cricket in our country: if we're better than the Aussies we're in a good place, if we're worse than the Aussies we're in a bad place.
And yet that hegemony, coupled with thrashing India 4-0 two years ago, is cause for regret.
"Getting to number one in the world was a huge goal of ours, it was like a fêted goal and once we did that we felt like we felt like, in some ways, we had completed the journey, which is always a dangerous thing to do and maybe it ended up being our downfall."
Only with Sky Sports can you watch 116 live Barclays Premier League matches, the Lions Tour, the Ashes and Formula 1 in HD and on mobile and tablet devices.