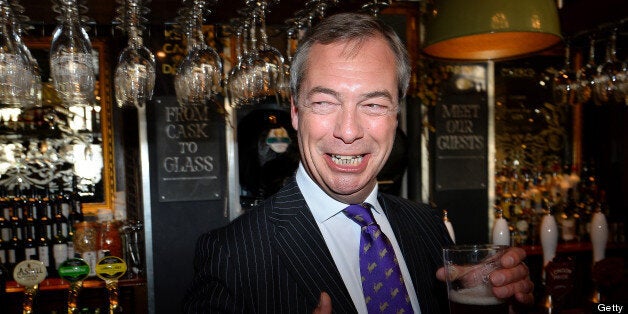 Nigel Farage could be allowed to participate in the televised election debates, one of Ed Miliband's closest advisers has said.
Speaking exclusively to The Huffington Post UK, Stewart Wood, the peer who masterminded Miliband's leadership campaign, acknowledged Ukip posed a threat to the party and suggested Labour could back an in/out EU referendum.
Asked about the TV debates, Wood, a key figure in Miliband's inner-circle, said: "I think that Farage has become a major figure in our politics, whether you like it or not. My personal view is I wouldn't have a blanket ban, no."
Despite referring to Ukip as a "very right-wing" party, Wood said Labour could not afford to ignore its recent surge in support.
"I think we should take Ukip very seriously, not just as an issue in Labour seats, but as the main vehicle at the moment for the 'plague on all your houses' sentiment from the British public," he said.
And he hit out at the prime minister over reports that the Conservatives may try and dodge or move the debates. "I don't quite see how David Cameron, who was so passionate about having them last time, can refuse them this time," he said.
Ukip, as well as the Conservatives, are likely to use Labour's current refusal to back an in/out referendum on the EU in the 2015 campaign - and Wood conceded that Miliband may decide to support a vote on the UK's membership.
"We're going make a judgement whether to have a referendum," he said. Asked if Labour would make such a pledge in its manifesto, Wood said: "It's conceivable because we are going to make up our minds before the next election."
The Conservatives also plan to target Ed Balls personally over the next two years - hoping the British public will link the shadow chancellor to the economic crisis of 2008. The tactic has prompted some to suggest that Miliband may sack Balls before the general election and replace him with former chancellor Alistair Darling.
But Wood is adamant Balls will become chancellor should Labour win. "They're wrong," he said of reports that Darling is poised for a return. "I do believe [Balls] will be the chancellor in the next Labour government."
And he slapped down former Blairite ministers, as well as Tony Blair himself, who have been critical of Miliband's policy positions.
"I think the key thing is not to be afraid of people who were in ministerial jobs in the past from expressing their views. You hear them, you always listen," he said. "But you reserve the right to disagree."
But Wood said a Labour government would "take a view on the balance between different departments" when it came to spending.
At the beginning of June Labour was accused of encouraging John Mills, the party's biggest financial backer, to make a donation in the form of shares in order to reduce his tax burden.
Mills told The Daily Telegraph that he had done so following a "discussion" with the party. It is a charge Wood rejected.
"No member of Labour's staff advised him to make a donation in this way. John Mills wanted to make this donation in this way to give the party a steady and reliable source of income," he said.
In the wide ranging interview, Wood also discussed; the differences between Miliband and Gordon Brown, Labour's position on arming the Syrian rebels, his view of Miliband's PMQs performances and what it feels like to be mistaken for Zac Goldsmith - and a certain former party leader.
Popular in the Community