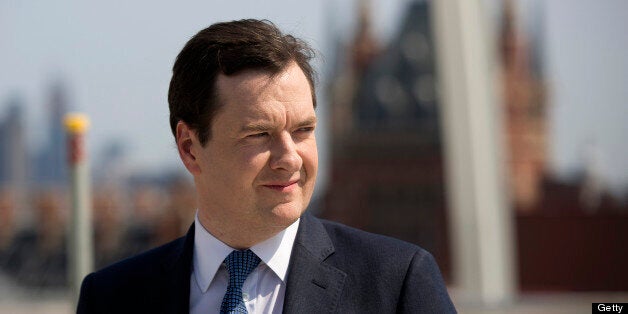 Chancellor George Osborne will today draw up the battle lines for the next general election as he sets out his final spending plans before the country goes to the polls in 2015.
The Spending Review for 2015/16 - the first year of the next parliament - is expected to slice £11.5 billion off the day-to-day budgets of Whitehall departments, extending the age of austerity the beyond the general election.
But Mr Osborne is also expected to confirm that billions of pounds of additional investment are to be directed into major infrastructure projects to boost growth over the years to the end of the decade, with details to be set out by Treasury Chief Secretary Danny Alexander tomorrow.
In what is likely to be a highly political statement, the Chancellor will tell MPs that he remains committed to his cuts strategy to pay down Britain's massive debts as the country moves from "rescue to recovery".
"While the British economy is leaving intensive care; now we need to secure that recovery," he is expected to say.
''We're saving money on welfare and waste to invest in the roads and railways, schooling and science our economy needs to succeed in the future.
''I know that times are still not easy for families. But we have a clear economic plan. We've stuck to it. It is working. And I'm determined to go on delivering it."
It is reported that the intelligence agencies - MI5, MI6 and GCHQ - have emerged among the winners in the carve-up of expenditure with a real terms increase of more than 3% - reflecting continuing concerns over the threat of terrorism in the wake of the murder of Drummer Lee Rigby outside Woolwich Barracks, London..
Mr Osborne is also expected to reveal how he intends to implement a proposed cap on previously uncontrolled parts of the public finances, such as welfare, debt interest and payments to the EU.
The cap on so-called "annually managed expenditure" was floated in the Chancellor's Budget in March, when Mr Osborne said he would impose a limit on a "significant proportion" of AME, which is made up of elements of public spending which can go up and down due to factors beyond the Government's control.
The Treasury has signalled that the state pension will not be affected by any cap, and Mr Osborne has said it will not impact on the "automatic stabilisers" which come into effect in a downturn, suggesting that unemployment benefits could also be excluded.
A think tank with close links to senior Conservatives has warned that failure to include pensions in the cap will force future governments to shave as much as £40 billion off spending for priorities like health and education as the population ages over the next 50 years.
In a pamphlet for Policy Exchange, former Treasury official Matthew Oakley pointed out that the state pension bill is set to rise from 5.6% of GDP in 2016-17 to 8.3% in 2061-62, and warned that any cap will be "meaningless" unless it includes the full range of benefits which are driving AME spending up.
Mr Osborne reached agreement at the weekend with Vince Cable over the level of cuts at his Business Department - the last Whitehall ministry to finalise its settlement.
All areas of departmental current spending will be asked to tighten their belts except the NHS, schools and overseas aid, which are protected by a "ringfence". Attention will, however, be focused on whether departments like defence or the Foreign Office have succeeded in reassigning elements of their activities to the health or international development budgets.
Mr Osborne said at the weekend that there would be a cut in numbers of civilian workers at the Ministry of Defence, as well as renegotiation of major contracts with suppliers to save money. But he insisted there would be no cuts in numbers of sailors, soldiers or airmen and no reduction in the UK's military capability,
Labour said that the review statement will lay bare "three years of failure" since Mr Osborne's last spending review in 2010, which have seen the slowest UK economic recovery for over 100 years with growth of just 1.1%, compared to the 6% predicted at the time.
Far from balancing the books as the Chancellor promised in 2010, the Government is set to go into the 2015 with state debt at £96 billion, said Labour, which blamed "lack of growth" for pushing borrowing up to £245 billion more than planned at the time of the last spending review.
Labour leader Ed Miliband has said that he cannot promise to reverse any cuts in day-to-day spending announced today if he wins the 2015 election.