 PA
The country's most powerful mandarin has been accused of breaching civil service political neutrality by publicly advocating austerity measures more "extreme" than George Osborne has enacted.
According to the Daily Telegraph, which splashed on Sir Jeremy Heywood's speech on Wednesday morning under the headline 'Twenty years to fix the economy', Heywood "made clear that the cuts introduced by chancellor George Osborne had not gone far enough because the deficit was still rising".
The top civil servant - who was appointed to the post of cabinet secretary, and knighted, in January 2012 - is quoted as telling his audience of Whitehall officials at a conference in west London yesterday: "Despite all these efforts we have made over the last three years … our debt/GDP ratio is still rising, debt interest payments are rising. There is still an enormous amount of work to get that deficit down to a balanced level to get the debt/GDP level falling rather than rising."
Heywood praised the "remarkably smooth" spending round for 2015-16 that was unveiled in the Commons by chancellor George Osborne last week, but argued that there was a "very long way to go": ""This is not a two-year project or a five-year project. This is a 10-year project, a 20-year generational battle to beef up the economy... there is no alternative."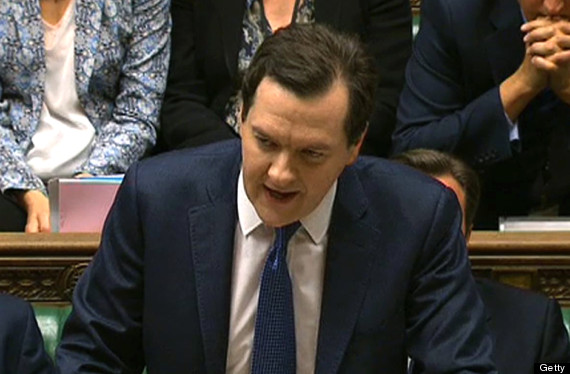 Sir Jeremy has annoyed some MPs by praising Osborne's "remarkably smooth" Spending Round
This isn't the first time that Heywood has come under fire for his seeming lack of political neutrality - in April, Heywood was attacked for "prostituting" his office by veteran Labour MP Paul Flynn, after co-authoring, with fellow top civil servant Sir Bob Kerslake, a "sycophantic" article about Margaret Thatcher headlined: "Our kindly boss, by Britain's top civil servants".
Flynn is equally unimpressed with Heywood's latest 'political' intervention. "He is extremely powerful," Flynn, a member of the Public Affairs Committee, told the Huffington Post UK. "But he should not be setting policy."
LIKE HUFFPOST UK POLITICS ON FACEBOOK | FOLLOW US ON TWITTER
Civil servants such as Heywood, the Labour backbencher added, "have become politicized... with the relationship between the two - ministers and civil servants - in a state of turmoil".
Friends of Heywood, who - as a recent Financial Times profile noted - "has served two chancellors, three prime ministers and a deputy prime minister, between them representing all three major parties", say he is the model civil servant: intelligent, hard-working, conscientious and, crucially, neutral.
Others have expressed concern that Heywood may be in danger of going beyond his official, nonpartisan role. "Constitutionally, senior civil servants are not supposed to make contentious statements and I'm afraid Sir Jeremy occasionally seems to forget that constitutional requirement," shadow cabinet office minister Jon Trickett told HuffPost UK.
However, a former adviser to Gordon Brown, who worked with Heywood in Downing Street between 2007 and 2010, defended his remarks, telling HuffPost UK that the cabinet secretary was simply reflecting the views of the government of the day. "When Jeremy worked for Gordon, he helped enact Gordon's policy which was to stimulate the economy and get it through the [financial] crisis."
So is Heywood just doing his job, as the coalition's top civil servant? Not according to Flynn, who says the cabinet secretary is "pointing in a direction that looks more extreme [on austerity] than the government".