Oxford University's prestigious debating society appears to be having second thoughts about having the highly controversial leader speak at a debate to be held in November, the Huffington Post UK has learnt.
Susan Beveridge, the union's members secretary, told HuffPost UK: "[The debate] will be featuring a number of guest and student speakers. However, Tommy Robinson has not been confirmed as a speaker for this debate yet and a formal invitation has not even been sent, he has merely been approached for his availability and whether he would be willing to participate.
"Therefore it is highly possible that he won't be featuring in it." Tommy Robinson, centre, with EDL supporters outside the Old Bailey in central London
Last week, Simon Blackaby, one of the society's committee members, tweeted Robinson asking:
Beveridge cited security concerns "on both sides" as to why she could not confirm whether the invite is still open to Robinson, adding she didn't know whether Blackaby's eagerness to host the EDL leader was a view shared by the union.
"As to the 'love', I'm afraid I am unable to know what everyone in the Union thinks and so I can't answer whether that was the member's personal view or not," she said.
Blackaby's invitation was met with a backlash from both Oxford University's student union (OUSU) president, and the National Union of Students.
Tom Rutland, president of OUSU, said: "The welfare of students is our utmost priority. Fascist speakers who spread hate and threats that extend to members of our student body, and often bring with them a rally of violent and dangerous thugs, are clearly a threat to student safety.
"There is no value in inviting or hosting hate speakers in the name of 'free speech' when they themselves do not believe in free speech nor a free society, and stand on a platform of oppressing people because of their race, religion, gender or sexuality. The EDL are simply the newest torchbearers of the dying but dangerous fascist movement in the UK.
"I very much doubt anyone will persuade this nasty and irrational individual of the absurdity of his position, rendering the entire stunt rather pointless."
The debate, which will be held on 14 November, carries the motion: "This House is Proud to be Patriotic". Previous speakers at the Union include Michael Jackson, OJ Simpson
"NUS has a long-standing policy of providing no platform to speak at our events to representatives of the EDL and non-one from NUS would share a platform with them.
"Tommy Robinson's views are well-known and abhorrent so providing a platform for them adds nothing to the debate and risks endangering students."


The president of the Union Parit Wacharasindhu defended the invite but admitted there were some security concerns. "The society is founded on the principle of free speech," he said. "It provides neutral arena where political views as long as they are contested.
"There will be security concerns - an issue raised by other parties - which need to be resolved. The debate format ensures his views are extensively questioned and scrutinised.
"No speakers are ever given a platform nor are their views ever endorsed by the society or any of the individuals in it."
A spokesperson for the NUS voiced its concern about the safety of students: "The Oxford Union is in not a students' union and is in no way affiliated with NUS.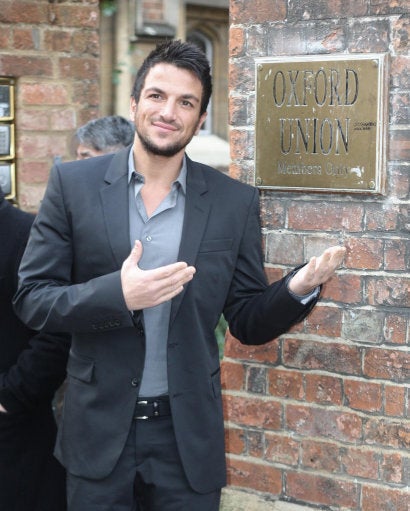 The Oxford Union's Celebrity Guest Speakers