It's a sign which should be a relic from a long-gone era, but a cafe owner has felt compelled to put up a warning notice outside her restaurant, telling customers that she is black.
Martha-Renée Kolleh became exasperated with customers coming into her cafe in Ossett, West Yorkshire, taking one look at her, and turning away.
The sign on the door of Yeanon Cafe now reads: "Attention. Everyone be aware. I am a black woman and always will be. If you are allergic to black people, don't come in."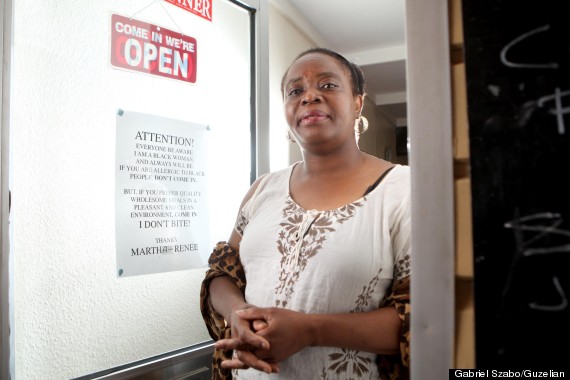 Martha-Renée Kolleh put up a sign in her cafe 'warning' about her ethnicity
Figures for ethnicity from the 2001 Census show that 98.9% of the town's population were recorded as white.
Kolleh told BBC Radio Leeds a lot of people in Ossett had supported her, but if business did not improve she would have to close by autumn.
She said: "I put [the sign] there because of the way people treat me in Ossett.
"They just open the door of my cafe and once they take a look at me they walk out."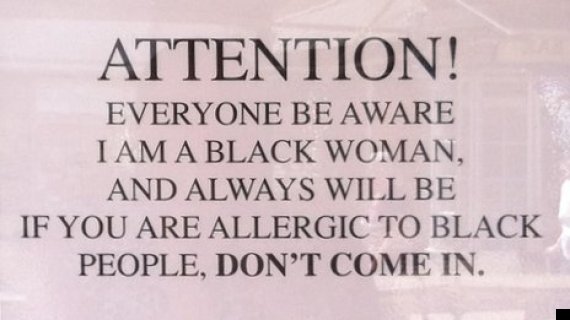 The sign put up at the Yeanon Cafe
The single mother-of-three has run the cafe for two years, serving freshly prepared British, Afro-Caribbean and Southern American specialities like pulled pork, oxtail and goat curries.
Many people have posted messages of support on the cafe's Facebook wall. One said: "It's disgusting and upsetting that you and your customers should have to waste a moment of your life, even thinking about posting a notice that you want to be free to live your life. I am white British and am no better than you or any other black person."
Another wrote: "Good luck with your cafe! It's so sad that you needed to put a sign on your door because of the bigots and idiots in this world. I wish you every success."