Frenzied speculation about the whereabouts of NSA whistleblower Edward Snowden has been reignited after keen-eyed plane watchers noticed a discrepancy in the route a regular Aeroflot flight from Moscow has taken to Havana.
Snowden has been stuck in limbo in the transit zone of Moscow's Sheremetyevo airport since June 23, where he arrived from Hong Kong after fleeing his Hawaii home having leaked documents to the Guardian and Washington Post.
He is wanted under the Espionage Act for leaking details of a hugely controversial NSA surveillance programme called Prism.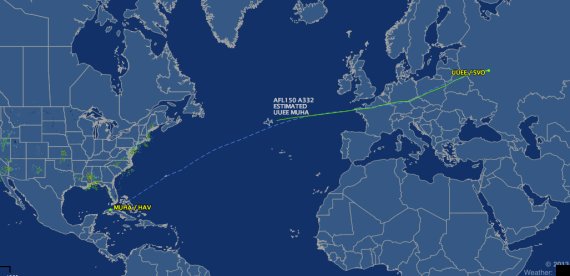 The route being taken by the plane to Havana from Moscow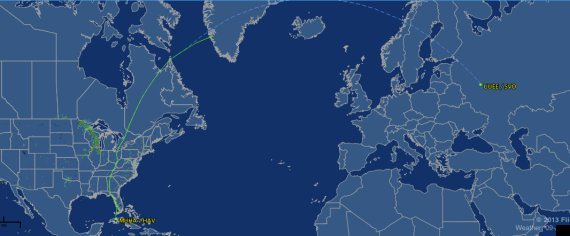 And the route taken by the flight on Tuesday to Havana, crossing US airspace
With the US having issued a warrant for his arrest, Snowden applied for asylum in 21 countries, including China, Russia, Cuba and Venezuela. He later withdrew his request to Russia after the country demanded he stopped leaking secrets and "harming our American allies.
Venezuela has reportedly offered Snowden asylum, as has Nicaragua, but there are no direct flights between Moscow and Caracas, meaning Snowden would be forced to travel via Havana, Cuba.
#BREAKING - Aeroflot flight AFL150 Moscow-Havana over Atlantic via France avoiding US airspace, #Snowden on board? http://t.co/0qD6ESV7H4

— Roeland Roovers (@r0eland) July 11, 2013
He was booked a flight to Havana on June 24 but missed the plane - which took several journalists to Havana without the whistleblower.
Several plane-watchers pointed to live route information on flightaware.com, which showed Aeroflot flight SU150 left Moscow shortly after 2pm local time, and took a route over Belarus, Poland, Germany and the northwest coast of France, instead of flying over Iceland and southern Greenland. It avoids UK, US and Canadian airspace using this route.
The flight is due to arrive in Havana at 6.19pm (2119 GMT) hours later than scheduled. Travelling for longer over the Atlantic is potentially more dangerous for the pilot, with no countries to make an emergency landing.
But it could equally be the weather that causes a plane to change its normal route.
The Huffington Post UK has contacted Aeroflot for an explanation for the change of route.
Glenn Greewald, the Guardian journalist who broke the story and who has corresponded with Snowden, said he would be surprised if his source was on that flight.
.@ggreenwald says "I don't have definitive knowledge, but I'd be surprised if this is true" when asked about if Snowden on Aeroflot flight

— Rosie Gray (@RosieGray) July 11, 2013
Whatever reason for different flight path, Aeroflot 150 to Havana today showing jet can easily reach Latin America w/o x'ing US airspace

— David M. Herszenhorn (@herszenhorn) July 11, 2013
Last week, a diplomatic crisis threatened to engulf three continents after the plane carrying Bolivian President Evo Morales was rerouted to Austria after France and Portugal refused to let it cross their airspace - suspecting Snowden was on board.
The president was kept at Vienna airport for nine hours, but there was no trace of Snowden, and the real-life spy thriller continued for another week.
UPDATE:
FlightAware CEO has sent this statement to reporters:

"We are receiving a large volume of calls about Aeroflot 150, en route from Moscow to Havana asking if the Southern routing across the Atlantic Ocean is typical and asking if this routing avoids US airspace.

"Because of winds (which blow East), the flight generally takes a more Northern route, up over Iceland, through Canada, and down the Eastern seaboard. However, on days when the winds are light or unusual, it can be more favorable to take a more Southern route which also avoids the additional overflight fees from Canada and the U.S.

"The route being flown today is comparable distance to the Northern/Canada route, although it appears significantly more direct due to flat projections of a curved Earth.

"The flight duration today is about the same as the last couple weeks, which suggest they're taking this routing due to winds/overflight fees. The last two times we saw this flight take a similar route were June 20 and June 8.

"On the route it's flying today, it will fly in U.S. airspace; the U.S. controls most of the Western half of the North Atlantic. To actually avoid U.S. airspace, a flight from Moscow to Havana would likely have to fly South to (approximately) Western Sahara and then West, which would be about 30% further than either of the routings discussed above."