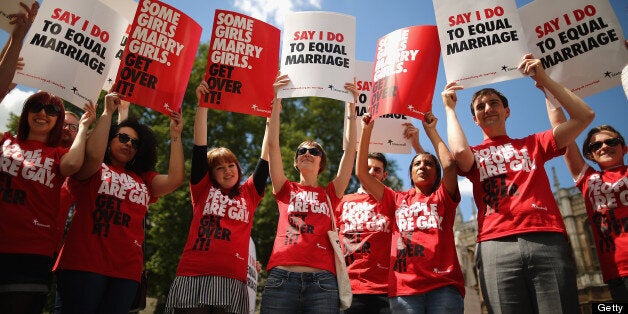 The government's gay marriage Bill is expected to become law by the end of this week, after the legislation cleared the House of Lords on Monday afternoon.
Peers gave the Marriage (Same Sex Couples) Bill its third reading without a formal vote after approving an amendment that would see ministers examine the pension arrangements for gay couples.
The legislation will now return to the Commons on Tuesday evening where it is expected to be rubber stamped by MPs and sent to the Queen for Royal Assent by Thursday at the latest.
The government expects the first gay weddings to be able to take place in Summer 2014 following the completion of implementation work.
Speaking to a jubilant pro-gay marriage rally opposite parliament, Nick Clegg thanked campaigners for "keeping politicians feet to the fire" to ensure the Bill was not derailed by opponents.
"Once what was felt, or considered, to be a radical will soon be the law of the land," he said. "People will look back on it and think, 'what on Earth was the fuss all about'."
"It should be entirely unremarkable and completely unusual that people who want to express their love to each other want to commemorate that love and want to celebrate that love regardless of who they are regardless of their gender regardless of their sexuality should be abel to do so on equal footing."
Stonewall chief executive Ben Summerskill said: 'It's impossible to express how much joy this historic step will bring to tens of thousands of gay people and their families and friends. The Bill's progress through parliament shows that, at last, the majority of politicians in both Houses understand the public's support for equality - though it's also reminded us that gay people still have powerful opponents."
The Bill had a turbulent time in both the Commons and the Lords - with a significant number of MPs and peers voicing fierce opposition.
And despite receiving overwhelming support in the Lords - critics of the Bill staged one final defiant stand against it today.
Tory Lord Framlingham told peers that it was a "deeply sad day" given gay marriage was now almost law and said millions of people's lives would be made "less happy" as a result.
And he attacked the government for using the Lords to "bulldoze through an ill-thought through Bill, the ramifications of which people have not even begun to understand".
Opponents of gay marriage warned reform would "come back to bite" Cameron. The Coalition for Marriage campaign group said it would mobilise a 700,000-strong support base in next year's European elections and the general election of 2015.