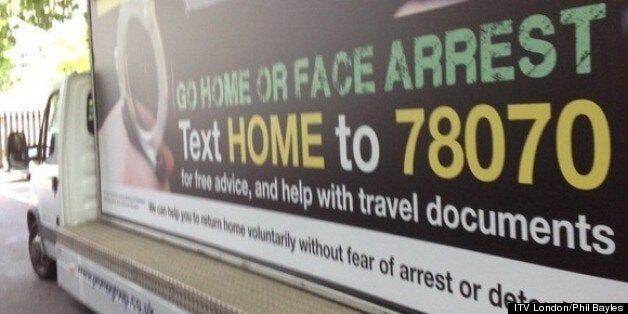 The Home Office's decision to drive vans around London warning illegal immigrants to "go home or face arrest" has been attacked for being "nasty" - by Nigel Farage.
The pilot scheme will also see the message also displayed in leaflets, posters and messages in local newspapers.
Over the next week, two vans will be driven around Hounslow, Barking & Dagenham, Ealing, Barnet, Brent and Redbridge and will show residents how many illegal migrants have recently been arrested in their area.
But the plan appears to be even too hardline for the Ukip leader, who has made cracking down on immigration the signature policy of his party.
"I think the actual tone of the billboards is nasty, unpleasant, Big Brother. I don't think using messages like this will make any difference. What will make a difference is enforcing our borders properly," he said.
Farage told ITV the billboards really about the Conservative Party pleading with voters not to jump ship at the election.
"What the billboards should say is 'please don't vote Ukip, we're doing something'," he said. "That's what it's all about, of course it is."
The billboards have also been attacked by the Liberal Democrats, who appear not to have been consulted on their deployment.
A party spokesman told the Liberal Democrat Voice blog: "These poster vans were not cleared or agreed by Liberal Democrats in government. We are totally committed to tackling illegal immigration but this is a disproportionate, distasteful and ineffective way to do it."
And Lib Dem president Tim Farron said the posters were "the politics of division". He added on Twitter: "These billboards must be shredded and quickly."
Immigration Minister Mark Harper defended the scheme, arguing the pilot "is just another part of the reforms of the immigration system that have cut out abuse and seen net migration drop to its lowest levels in nearly a decade.
"The Immigration Bill being introduced later this year will build on this work by restricting illegal migrants' access to benefits and services," he added.
On Thursday the Public and Commercial Services Union (PCS) which represents civil servants wrote to Home Office permanent secretary Mark Sedwil to complain about the billboards.
"We are appalled that the Home Office has sanctioned the initiative," the union said. "This kind of campaign will do nothing to deal with the problem of illegal immigration and will only serve to cause more racial tension within our communities.
"This is just a political advertising stunt that differs little from the Conservative Party election campaign messages. This is exactly the thing right wing racist and fascist organisations such as the BNP, EDL, EVF and others feed off and use to stir up racial tension and hatred in these very same London boroughs."
Related