Tory MP Claire Perry, who has been advising David Cameron on measures to tackle the spread of extreme pornography and child abuse on the internet, has revealed the extent of the abuse she had received from Twitter users.
The Devizes MP wrote: "I am tempted to shut down my Twitter account given the trolling going on incl. to me - but that would be giving in."
In a message to her Twitter user @epivalent said: "Please disappear into obscurity and/or alcoholism. or die, whatever. the main thing is you should f*** off and never return."
Another user calling himself "Robert Cleveland" asked: "What's it like being a dumb bitch in 2013?"
In another foul-mouthed posting a Twitter user going by the name @badassday said: "Devizes is in Wiltshire, right? That's where there isn't any porn, & it's still 1953, right? Hello @claire4devizes, u stupid dinosaur t***."
On Monday evening, Del Harvey, Twitter's senior director, trust & safety, posted a message on the website's UK blog which said the firm was "not blind to the reality" that some users would use the service to post abuse.
"We want Twitter to work whether you are trying to follow your favourite musician, talk to others about shared interests, or raise the visibility of a human rights issue," she said.
"We also have to think about scale and volume. We see an incredible amount of activity passing through our systems - there are more than 400 million Tweets sent every day worldwide. Those Tweets not only appear on our site and in our apps, but are also embedded into the fabric of traditional and digital media.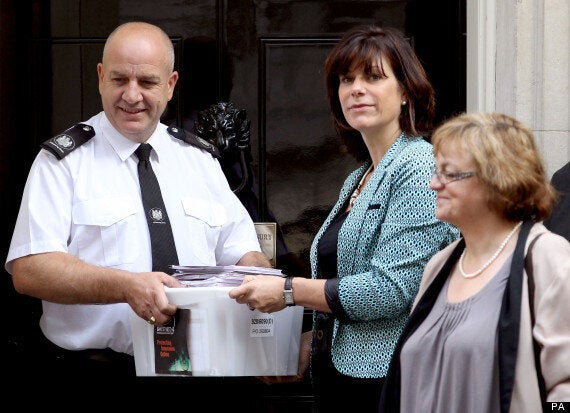 Perry hands a petition to have ISPs block pornographic websites to Downing Street in 2012
"The vast majority of these use cases are positive. That said, we are not blind to the reality that there will always be people using Twitter in ways that are abusive and may harm others.
"While manually reviewing every Tweet is not possible due to Twitter's global reach and level of activity, we use both automated and manual systems to evaluate reports of users potentially violating our Twitter rules.
"These rules explicitly bar direct, specific threats of violence against others and use of our service for unlawful purposes, for which users may be suspended when reported."
Setting out the measures Twitter was taking to allow the reporting of abuse she added: "We hope the public understands the balances we're trying to strike as we continue to work to make our systems and processes better."
Earlier on Monday, Labour MP Stella Creasy said she had also received rape threats on Twitter, amid a growing furore over the online threats made to rape and kill a feminist campaigner.
Creasy, the Walthamstow MP, said on Monday that she also had received abuse on Twitter and had reported it to the police. She told BBC Radio 4's World at One programme that people had made "direct threats to rape me" as well as sending other sexually abusive messages.
The campaigning MP has made a habit of retweeting some of the sinister messages to her 30,000 followers in order to highlight the problem.
"It is important that we do not think that somehow because this is happening online it is any less violent, any less dangerous than if people were shouting or abusing Caroline in the street in this way," she said.
"Twitter needs to be explicit that sexual violence and sexual aggression will not be tolerated as part of their user terms and conditions."
Among the messages received by Creasy was one that said: "I will rape you tomorrow at 9pm .... shall we meet near your house??????"
Creasy told the BBC that the problem ran deeper than technology. "This isn't about Twitter, this is about hatred of women and hatred of women who speak up," she said.
Andy Trotter from the Association of Chief Police Officers also told the BBC that Twitter needed to deal with some of the "bloodcurdling" messages sent on its site.
"When it comes to really outrageous behaviour then clearly that must be reported to us and we will deal with those people," he said.
"This is a problem they [Twitter] are going to have to deal with. We are faced with the fact people are doing these things all the time across their particular platform and this s an issue for them."
He added: "Some of the cases she reported to me are absolutely bloodcurdling and quite clearly these should be matters police get involved in. People will be getting a knock on the door."