A bereaved son plans to strap a vase of his mother's ashes on a Ryanair flight to the Canary Islands, after the budget airline refused to offer a refund when his mother died.
Doug Parsons was hoping to take one last holiday with his ailing mother Beryl, who had terminal cancer, and had booked some October sun in Fuerteventura, flying out in October.
But his 78-year-old mother, who lost six stone in her battle with cancer, died on June 24. When the financial controller from Norwich contacted the airline for a refund of his mother's £200 share of the £1,074 in airfares he had paid, along with her death certificate, he was astonished by the reply.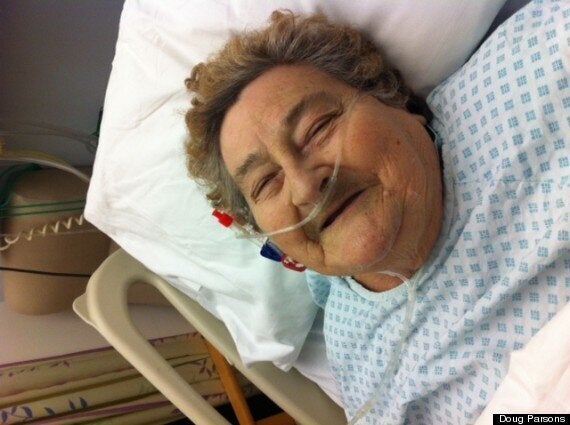 Beryl Parsons, who died of cancer in June
Ryanair offered Parsons its "condolences" but said it would not refund the fare, because Mrs Parsons had died too early.
"Unfortunately, we regret to advise you that in accordance with Ryanair's General Conditions of Carriage detailed below we cannot refund your booking confirmation RF1SGP – see below extract from our Conditions of Carriage:

10.3 BEREAVEMENTS

In the case of a bereavement of an immediate family member (spouse, civil partner, mother, father, brother, sister, child, grandparent or grandchild) within twenty eight days of intended travel we will, upon application made as soon as reasonably practicable but in any event by the proposed date of travel and accompanied by a copy of the applicable death certificate, make a refund in line with Article 10.2.

Please again accept our sincere condolences.
"She was so well liked that even her consultant surgeon came to her funeral as did two of the ward sisters," Parsons told HuffPost UK.
"The irony is that we first discussed going away together at Christmas time last year and planned the holiday for June. And then she got worse so we postponed booking it.
"If we'd have gone at the time we'd planned, and she'd died just before we went away, we'd have got the refund. It's unbelievable." Ryanair has said it will not refund a dead passenger's fare if they die more than 28 days before the holiday
His mother, Parsons said, had been looking forward to the holiday with her son, his partner Lisa and two children Cameron and Tanya, immensely. "It had been keeping her going. When she was told in June she only had three weeks to live, her first thought was about the holiday."
"This is absolutely not about the money, it's the principle," he continued. "If they don't give the refund, I will take the ashes, and take them on all the disability assistance I'd booked for her, and strap the ashes onto the seat, video it all and put it on YouTube."
Parsons said he would never fly with the airline again. "I'd been planning a trip with Lisa to Rome, but seeing as all the cheap flights there seem to be with Ryanair, we won't be going."
Ryanair has yet to respond to requests for comment.