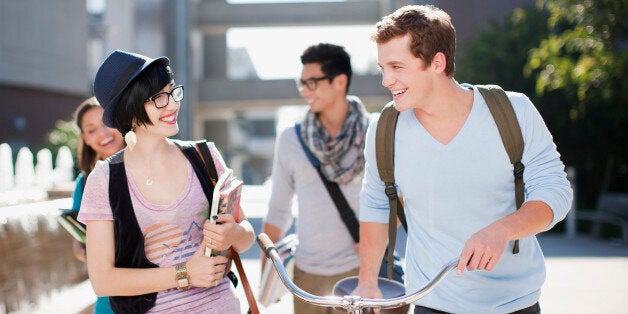 The vast majority of students are happy with the quality of their university course, according to new statistics.
Around 85% of final-year students say they are satisfied with their degree, while 7% were unsatisfied, the latest National Student Survey (NSS) has found. The figure are bound to help students decide which universities to apply to through clearing which opens on A-level results day.
A further 7% said they were neither satisfied nor dissatisfied, it reveals.
The annual poll, which questioned around 304,000 students in the last year of their course, found that among the main institutions, Bath University had the happiest students, with 94% saying they were satisfied with the quality of their degree.


A number of smaller, specialist institutions also had high satisfaction ratings, including the Institute of Education (97%), Medway School of Pharmacy (97%) and Brighton and Sussex Medical School (95%).
At the other end of the scale, students at Ravensbourne, a specialist design and communication college had the lowest satisfaction rate at 64%.
Among further education colleges, both Ashton-Under-Lyne Sixth Form College in Greater Manchester and Herefordshire and Ludlow College in Hereford had satisfaction rates of 100%.
The annual survey, which covers 154 universities and 165 FE colleges, asks students about every aspect of their university experience, including teaching, assessment, support and student unions.
The results show that 86% of students were happy with the teaching on their course, the same proportion as last year.
Around eight in 10 (80%) were satisfied with the academic support they received, 72% were happy with assessment and feedback, 84% were happy with the learning resources their institution offered, 78% were happy with organisation and management, 82% were satisfied with personal development and 67% were happy with their student union.
Sir Alan Langlands, chief executive of the Higher Education Funding Council for England (HEFCE), which published the results, said: "These strong results continue to demonstrate the high-quality student experience provided by universities and colleges in the UK.
"However, institutions must continue to enhance what they offer and, respond effectively to the diverse needs of their students. The NSS provides crucial information which not only informs student choices but also improvements in learning and teaching across the sector."
Toni Pearce, president of the National Union of Students (NUS), said: "It's encouraging to see that the student experience is continuing to improve and that more students than ever have responded to the National Student Survey.
"The score for assessment is at its highest level ever and we're pleased that the work of institutions and students' unions in this area is showing positive results."
Universities Minister David Willetts said it was "very encouraging" that student satisfaction is continuing to rise.
The top-rated university for student satisfaction in Scotland was St Andrews at 93%;
The Welsh university with the highest student satisfaction rate was Cardiff at 89%, and the Welsh FE colleges with the most satisfied students were Bridgend and Coleg Sir Gar (both 87%);
In Northern Ireland the top-rated institution was St Mary's University College, part of Queen's University Belfast, at 94%.
Professor Dame Glynis Breakwell, vice-chancellor of Bath University, said: "This is fantastic news and reflects the students' view of the unique combination of high-quality teaching, excellent support services and a close-knit campus community we offer them.
"We aim to ensure our graduates are classic all-rounders, of the highest intellectual calibre as well as being accomplished in other spheres of life - competitive sports, the arts and any other field of endeavour they choose to pursue."
Wendy Piatt, director general of the Russell Group, which represents 24 leading universities including Oxford and Cambridge, said: "Once again these figures show undergraduates at Russell Group universities report higher than average levels of satisfaction with the quality of their course.
"All our universities work hard to make sure they have high levels of satisfaction and low drop-out rates - we have some of the best university completion rates in the world - and we are pleased with this strong endorsement from students themselves."
The English universities with student satisfaction rates of 90% or higher were:
Institute of Education (97%)
Medway School of Pharmacy (97%)
Brighton and Sussex Medical School (95%)
University of Buckingham (93%)
University of East Anglia (93%)
University of Essex (93%)
University of Cambridge (92%)
University of Surrey (92%)
University of Exeter (91%)
University of Oxford (91%)
Royal Northern College of Music (91%)
Coventry University (90%)
University of Durham (90%)
Harper Adams University (90%)
Lancaster University (90%)
University of Newcastle upon Tyne (90%)
University of St Mark and St John (90%)
University of Sheffield (90%)
The English further education colleges with student satisfaction rates of 90% or higher were:
Ashton-Under-Lyne Sixth Form College (100%)
Herefordshire and Ludlow College (100%)
East Berkshire College (98%)
North East Surrey College of Technology (95%)
South Devon College (94%)
South Thames College (94%)
The College of West Anglia (94%)
City of Bath College (93%)
Dudley College of Technology (92%)
New College Stamford (92%)
Barking and Dagenham College (91%)
North Lindsey College (91%)
Tyne Metropolitan College (91%)
Redcar and Cleveland College (90%)
Wigan and Leigh College (90%)
Related