A donkey whose owners cruelly tied him up with barbed wire is having his wounds treated... with a pair of trousers.
Named Haim, the donkey endured years of abuse before he was rescued by Tel Aviv's Ramat Gan Safari, where carers began efforts to rehabilitate him.
But years of being tied up had left Haim's legs sore and bald, causing flies to bite his skin. The donkey would scratch the bites, leaving further sores and cuts which would attract even more flies, The Times of Israel reported.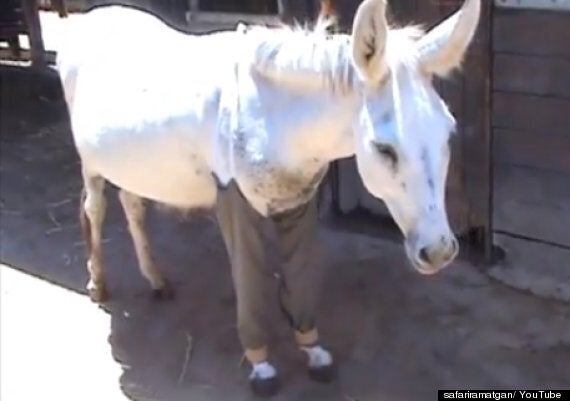 Haim the donkey sports his trousers at the Ramat Gan animal sanctuary in Tel Aviv
Staff at first tried using socks to keep Haim from scratching his wounds, but the tape to keep them up was irritating him.
Then came the brainwave of using a pair of trousers – held up with suspenders.
Horse Talk writes: "Caregivers Becca Rivkin and Shira Inbar-Danin came up with the idea of trousers, and set about sewing the creation that Haim now so proudly wears.
"Haim's trousers are a bit special, with double layers – a soft material on the inside and a tough outer layer to prevent the flies from getting to his wounds."
What's more, the trousers have been such a success his carers are considering fashioning him a pair for his back legs too.