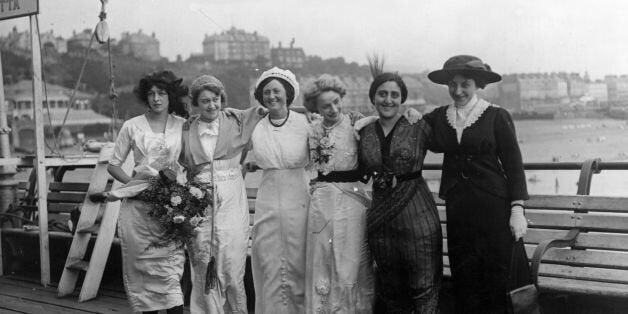 Glossy pouts, harispray and swimsuit rounds seem a long way from this image of the first international beauty contest in Britain, which was held at the Pier Hippodrome in Folkestone, Kent, 105 years ago.
Wednesday marks the anniversary of the first ever international beauty pageant, invented by Edwardian entrepreneur Robert Forsyth, the managing director of the Pier.
The first winner was Nellie Jarman from London, who became Miss Folkestone 1908.
The image of the pageant shows Misses England, France, Denmark, Germany, Italy and Spain, dressed in their finest
Feminist anger at the objectification of women was felt keenly, even in the Edwardian era.
The Folkestone Express reported the next day that:"The two front rows in the stalls were occupied by "Suffragettes". They each wore a large sailor hat with a red band on which the legend appeared "Votes for Women!".