A churchman who visited the pair in a police holding centre in Lima claimed the two women - one a Scot and the second from Northern Ireland - had no choice but to follow orders.
Sean Walsh, an Irish-American archbishop with the Eastern Catholic Church, said: "They told me that there were a group of Colombians that actually took them at gunpoint and threatened them." Nightclub hostess Michaella McCollum Connolly (left) and Melissa Reid at Lima Airport Some of the cocaine seized by police at the airport
The archbishop said Michaella McCollum Connolly, 20, and Melissa Reid, 19, were held for a while by the gang before being taken to Morocco and back again to Peru.
"I don't know how that happened, and I don't know how they got over to Peru," he said.
"There's no direct flight from Morocco, they go through Spain probably, but if they threatened them in some way that to me seems like a credible defence."
The women are due to appear in court tomorrow accused of attempting to smuggle the cocaine haul out of South America.
The archbishop, who has been working with prisoners in Peru for several years, said he met with the two women for half an hour in the police offices of the holding centre.
"If they have been coerced or threatened as I think they are going to argue, then the fact that they physically had it in their possession may not mean that they were intentionally or wilfully doing it," he said.
"If they were forced with threats on their life or something then they might not have gone through with this."
The cleric said he believed the women would plead innocent on the basis of coercion.
The archbishop said he did not see the cells the women were staying in but believed they were being treated well, and said one of their chief concerns was for their families.
In a further developement, Ms McCollum Connolly's lawyer said her family are confident she will be cleared of any wrongdoing.
"Michaella's family are obviously shocked and distressed by the recent events but are confident that Michaella will be exonerated," said solicitor Peter Madden.
The family are making arrangements to travel to Peru and have contacted support groups in Lima to help her in the meantime. They are also arranging legal representation.
Madden added: "I spoke to Michaella last night and she emphasised that she denied that she was guilty of any offence. She is well. She is not on hunger strike.
"She is finding it difficult to cope with the current situation, so far from home, but is optimistic."
Ms McCollum Connolly has denied involvement in any criminal offence to the Peruvian authorities.
Ms McCollum Connolly's exhausted mother Nora has spoken of her distress over the ordeal.
"The situation is terrible for everyone," she said.
McCollum Connolly, a photography student and former nightclub hostess was arrested last week alongside pal Reid, 19, from just outside Glasgow, while trying to board a flight from Lima to Madrid.
The pair claim they were forced to carry bags in their luggage and were unaware they contained drugs.
At the family home in Dungannon, Co Tyrone, Mrs McCollum said her family was going through a difficult time.
She added: "At the moment we don't know anything. We don't know what is happening at all."
The family's parish priest, Dean Colum Curry, said they were struggling to come to terms with the plight but were trying to stay positive.
He declared: "It is just like a nightmare for them. They are at a loss as to what they can do.
"The family feel almost overwhelmed. They feel intimidated with all the callers to the door and feel a bit like prisoners in their own home. They are afraid to say anything that might jeopardise the situation.
"It is very hard to know who to trust because the system is so corrupt and that makes the situation even more worrying for them.
"But they are still hopeful."
A former senior diplomat warned Peru was cracking down on crime and, if convicted, the women could face harsher new conditions ruling out parole.
Michael Russell, who recently retired as Ireland's consul general in Lima, said the government was under pressure to push through "draconian laws" to assert more law and order.
"This could be very bad timing for these girls if these laws come in," he said.
"There is a lot of pressure to stamp out crime with more police guards, tougher sentences - and that is across the board, not just for drug smugglers."
Russell, vice-president of the Irish Peruvian Chamber of Commerce, will meet the girls this evening and explain to them what they face.
"First, I'm going to find out if they need anything, such as toiletries for personal hygiene," Russell said.
"Secondly, I'm going to listen to their story and I'm going to tell them my experience with other prisoners in similar situations. Thirdly, and most importantly, I'm going to tell them they need a good lawyer. That is their priority."
Russell said state-appointed lawyers have a reputation for failing to form strong defence cases, mainly because they work pro bono.
He supported calls from Walsh for financial support from abroad for the girls.
"They'll need it if they are to get a lawyer and that's essential," he said.
Mr Russell said the archbishop was "a very honest man", who has vast experience helping Irish and British prisoners in Peru, and raising money for their support - all of which, he said, goes through official channels.
The National Police of Peru said they found more than 24lb of cocaine - thought to be worth around £1.5 million (1.7 million euro) - hidden in food in the luggage of the two women.
Reid's father William told reporters at his home in Lenzie, East Dunbartonshire, that the family are going through a "living nightmare" and have not slept since they found out.
He said his daughter is "bright, beautiful, bubbly and intelligent, just like her Facebook page shows".
He said he had a very brief phone conversation with his daughter and told her to be strong and not to get too emotional.
The family are being advised by the Foreign Office but Reid said they are "not getting much information".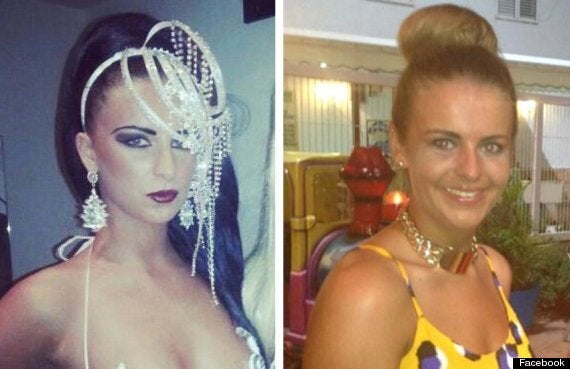 Connolly and Reid were arrested as they tried to leave Lima Airport Food bags 'hid more than 24lb of cocaine'
He said there is "no way" his daughter would have gone along willingly with a plan to smuggle drugs.
He feels his daughter may have been "groomed" by somebody who she may have thought was a friend she made on holiday.
The 53-year-old said the family have no plans to go to Peru at the moment and fears going out could actually put his daughter in "greater danger".
Meanwhile, video footage has emerged of the two girls being questioned at the airport.
In the online video, Reid is questioned by a police interviewer and is heard to say: "I was forced to take these bags in my luggage."
When asked if she knew they contained drugs, she said: "I did not know that."
Ms McCollum Connolly identifies herself and describes her nationality as Irish.
Both girls left home for separate holidays in Ibiza earlier this summer.
Last week, McCollum Connolly was at the centre of a Facebook and online social media appeal after her family said they had not had any contact with her for 12 days. The first they heard was when she turned up in Peruvian police custody.
Reid's mother, Debra, told reporters she thought her daughter was in Ibiza with friends and had no idea she had travelled to Peru.
Reid flew to Ibiza in June and had posted numerous pictures of herself with friends on the Spanish holiday island on her Facebook page. Her last post was on July 21.
Related