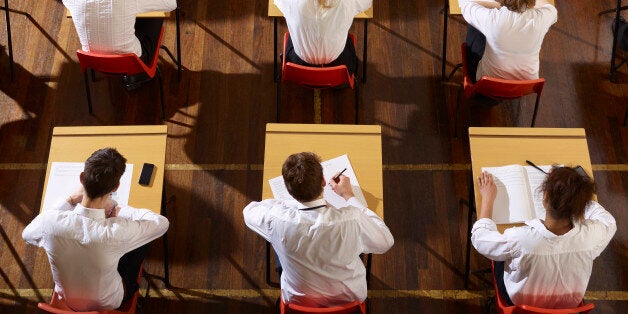 Boys are better than girls at exams because they take more risks and are better at going with their instinct, according to Oxford University's head of admissions.
"Girls will try and reason it out."
Overall, 8% of boys' entries attained an A* compared with 7.4% of girls - a gender gap of 0.6%. Last year there was a 0.1% difference between the sexes with boys on 8.1% and girls on 8%.
It means that while boys' results at A* have fallen by 0.1% year on year, the proportion of girls' entries gaining the top mark have fallen by 0.6% compared with last year.
Professor Averil MacDonald, a board member of the Women in Science and Engineering campaign and chairman in science engagement at the University of Reading, disputed Nicholson's statement: "Girls are outperforming boys at all subjects. They are getting better results than boys even in subjects like physics, which are traditionally seen as a male preserve.
"Boys may be following gut feeling, but that isn't necessarily the way to get the right result. If you phrase a question in the context of a story, boys tend to strip away what's irrelevant more quickly.
"But, if you ask any teacher, girls are more organised at completing coursework and getting it in on time."
Nicholson's comments, which he admits are "broad brush strokes", will no doubt further concerns over the gender divide in STEM subjects. On Thursday, Chris Keates, general secretary of teachers' union NASUWT, said: "Of concern is the increasing gender divide that we are witnessing in students' subject choices.
"This is an issue that the Government cannot ignore as it could have serious ramifications for the future education and employment options of boys and girls."
Professor Sir Peter Knight, president of the Institute of Physics, added: "Major concerns do continue to be raised about the very low proportion of girls choosing to study physics.
"There is still a huge amount of work to be done to ensure girls are not denied their entitlement to a good physics education. Not least, we know that anachronistic gender stereotypes persist in many classrooms and these contribute to an outrageous unfairness that we continue to fight against."