Oscar Pistorius will be formally charged with the murder of girlfriend Reeva Steenkamp, when he appears at Pretoria Magistrates' Court today, with a trial date expected to be set for early next year.
Pistorius is accused of the premeditated murder of Ms Steenkamp on Valentine's Day evening, but claims he shot the 29-year-old after mistaking her for an intruder.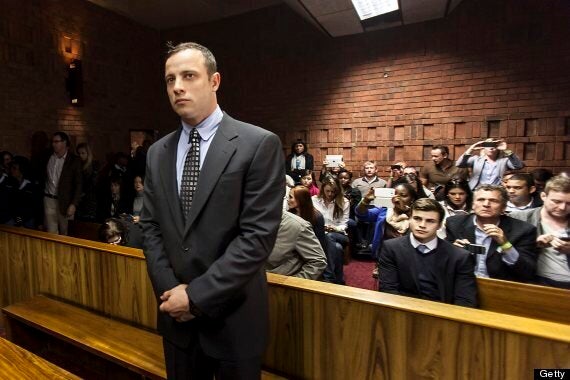 Oscar Pistorius last appeared in the Pretoria Magistrates court in June in Pretoria, South Africa
The six-time Paralympic sprint champion was initially charged with premeditated murder for bail purposes while police investigated the circumstances of the shooting and last week prosecutors said a finalised indictment would be served on the double amputee.
A spokeswoman for South Africa's National Prosecuting Authority said: "We expect that the indictment will be finalised and ready to be served to Oscar Pistorius on Monday August 19."
The prosecution will retain a main charge of premeditated murder. If convicted, Pistorius faces a life sentence with a minimum of 25 years in prison.
Additional charged are also "possible", prosecutors told The Associated Press, but declined to comment about the charges before today's hearing.
It has been reported that the Paralympian could face extra charges of allegedly discharging a firearm recklessly in two other incidents.
Papers presented at the court today are expected to include a witness list and detail some of the evidence police have gathered in the six months since the death of Ms Steenkamp.
Pistorius is currently on bail after a judge changed his conditions in March, allowing him to travel abroad providing he hand over his travel plans.
The "Blade Runner", who was recently spotted kayaking with friends in South Africa, has resumed a "low-key track routine", according to his family.
In a statement on his website in June, they said: "Oscar is not contemplating a formal return to athletics and his training is not aimed at preparing for competition.
"His focus at this time remains entirely on the court case. His family, and those close to him, have encouraged him to spend a few hours a week on the track to assist him in finding the necessary mental and emotional equilibrium to process his trauma and prepare for the trial."
The athlete was "overcome with emotion" when he pulled on his carbon fibre running blades for his first track training since Ms Steenkamp's death, his agent Peet van Zyl said, adding that Pistorius described his return to the track as "bittersweet".
Ms Steenkamp's parents previously said they are still searching for answers.
In a television interview in June, June Steenkamp said: ''There is only one person who knows what happened'' on the night her daughter was killed.
Related