The trial of Oscar Pistorius has been adjourned until August 19 - which would have been the 30th birthday of his girlfriend, Reeva Steenkamp.
The 26-year-old double amputee and six-time Paralympic sprint champion appeared in court in Pretoria on Tuesday morning charged with the premeditated murder of 29-year-old Steenkamp in February.
During the brief hearing, magistrate Daniel Thulare raised concerns about press coverage of the trial so far, amid worries the case could be tainted by "trial by media". Pistorius appeared in court on Tuesday morning
The South African athlete, who is expected to stand trial later this year or early next year, is on bail after a judge changed his conditions in March.
After his trial was adjourned, Pistorius fought his way through the waiting press pack into a car with blacked-out windows.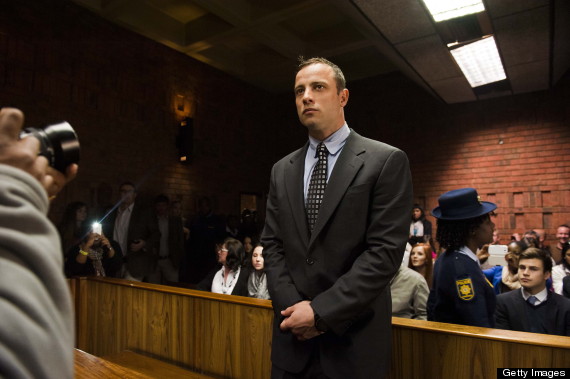 Pistorius denies premeditated murder
The appearance comes after Ms Steenkamp's parents Barry and June gave a television interview saying they were desperate to find out why their daughter had been shot.
In the Channel 5 interview, shown on Monday night, Mrs Steenkamp said "there is only one person who knows what happened" that night in February when her "terrified" daughter was killed .
Pistorius's family yesterday said they will "support him every step of the way" and "fully stand behind" him.
The Blade Runner's uncle Arnold Pistorius said the family was "shaken" by pictures of the star's bloody bathroom that emerged last week.
He said: "We continue to have great faith in the South African legal justice system and believe that Oscar's account of what happened on that terrible night in February will be borne out by the evidence that the defence team will lead in court."
SEE ALSO: