A provocative new image of topless activist Amina Tyler has been published online.
Earlier this year, the 19-year-old Tunisian became something of an unofficial figurehead for the Femen women's movement, after she was threatened with death by stoning for baring her breasts online.
Tyler's initial protest, in which she uploaded topless pictures of herself with "my body belongs to me" scrawled on her chest to Facebook, scandalised the Muslim nation and prompted Femen to organise a "topless jihad" in support of her.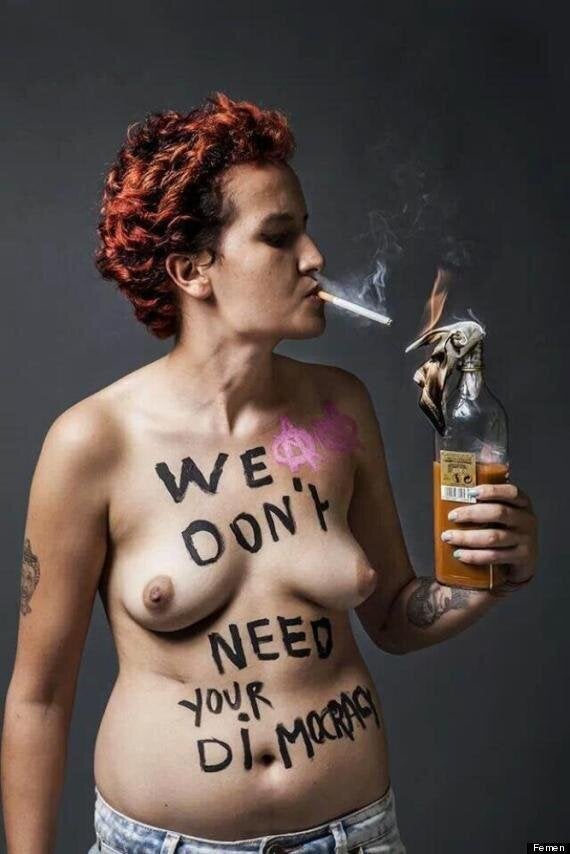 The new image shows Tyler topless, lighting a cigarette from a Molotov cocktail, with the words "We don't need your (sic) dimocracy" scrawled on her chest. It is not known when the picture was taken, though it was posted on the Femen official site on 16 August.
Now distancing herself from Femen, Tyler thanked the organisation for its support, but says she left because of what she describes as its "dubious" sources of funding and a stunt which saw activists burn a Salafist flag in front of a mosque in Paris.
"This has affected many Muslims and many of my relatives. We must respect each person's religion," she explained.
What's more, Tyler says the latest image may have been posted by Femen, but it should not be associated with the group. Pointing to the Antichrist symbol painted on her chest, she vowed to continue her fight for women's rights, explaining: "This is different... Anarchy is not chaos as some people think. Anarchy does not mean any break, but break the system."
Femen leader Inna Shevchenko confirmed the parting of ways on Tuesday on Twitter, claiming Tyler had "betrayed" the group:
Shevechenko told the Huffington Post UK: "This is the usual situation when the person under pressure gives up. Not all women who come to Femen stay after the first arrest.
"That's fine that she leaves Femen, everyone is free in their decisions and I'm ready to understand it... But she has betrayed the thousands of women who acted in support of her all over the world."
She was photographed daubing the word "Femen" on a cemetery wall in Kairouan and was also reported to have attempted to remove her clothes outside the Uqba Ibn Nafi Mosque.
He added: "Amina is still on trial for desecrating the cemetery but the public indecency and forming an alliance to assault properties and individuals charges have been dropped."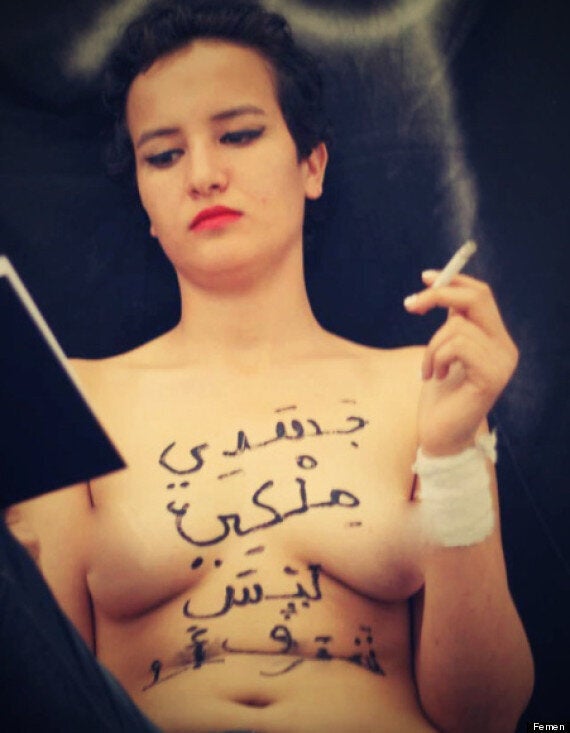 One of the pictures of Tyler posted on the Femen Tunisia site
Tyler claimed she had been beaten, kidnapped and drugged by her family after posting topless images of herself with the words "Fuck your morals" on the Femen Tunisia page.
She also said she'd been forced to endure a humiliating "virginity test" but vowed she would continue her fight for women's rights in the Muslim country.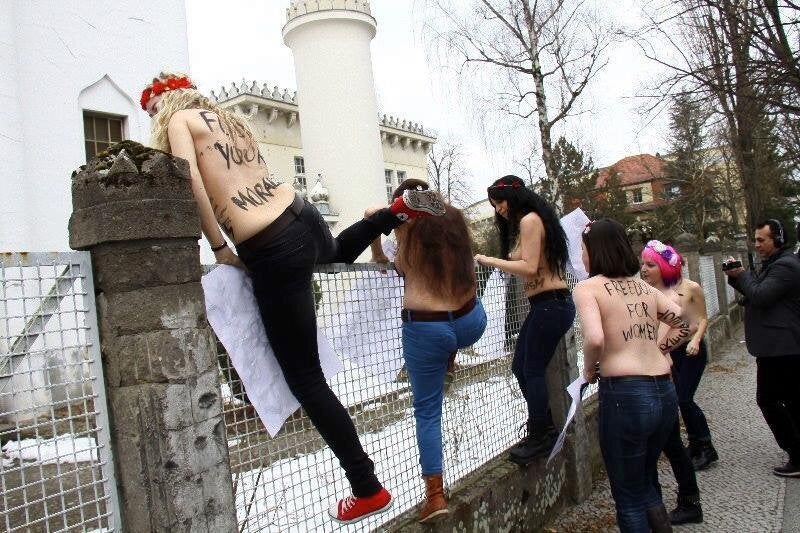 Topless Jihad Day April 4 2013
But she insisted she was not afraid: "No, nothing they could do would be worse than what already happens here to women, the way women are forced to live every day.
"Ever since we are small they tell us to be calm, to behave well, to dress a certain way, everything to find a husband. We must also study to be able to marry, because young guys today want a woman who works."