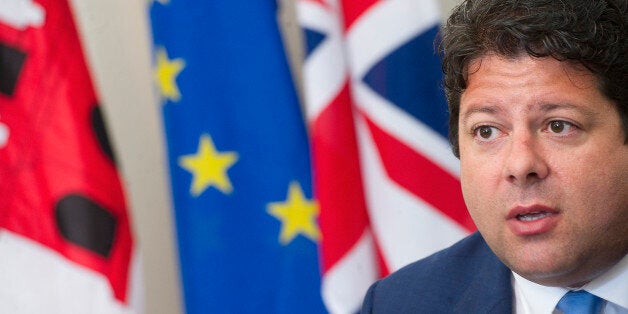 Gibraltar's chief minister Fabian Picardo is to hold talks with David Cameron and William Hague in London over the current border row with Spain.
Picardo was due to arrive in the United Kingdom today ahead of talks later this week with the ministers, the Gibraltar government said.
They will discuss the dispute over an artificial reef sunk which led Spain to increase border checks that caused delays of several hours for traffic trying to enter and leave the British Overseas Territory in recent weeks.
"These meetings will enable Mr Picardo to discuss face to face with each of them a number of important matters, in particular the current abuses by the Spanish authorities at the Gibraltar frontier and the statements from senior Spanish politicians threatening further measures against Gibraltar," a spokesman for the Gibraltar government said.
The row over the reef, which Spain claims disrupts waters frequented by its fishing boats, has continued to simmer in recent days.
Last Friday a group of divers from a Spanish Guardia Civil unit entered Gibraltarian waters and inspected the concrete reef. Pictures posted online showed them unfurling a Spanish flag at the seabed.
The move was criticised by the Gibraltar government, which said the "serious incursion will not assist" in de-escalating the present tensions.
Last week more than 40 commercial Spanish boats staged a protest over the reef before being removed from Gibraltarian waters by police and Royal Navy patrol boats.
European Commission observers are to visit the border crossing to assess the legality of the checks on traffic after Spanish prime minister Mariano Rajoy agreed to allow them access after talking to Commission president Jose Manuel Barroso.
Three Royal Navy ships, led by frigate HMS Westminster, visited Gibraltar for a routine stopover last week en route to naval exercises in the Mediterranean.
A Foreign Office spokesman said:"The visit of Chief Minister Fabian Picardo to London reflects the strength of the bonds between the UK and Gibraltar, and our commitment to stand by the people of Gibraltar.
"The Prime Minister, Foreign Secretary and the Chief Minister will be discussing a range of issues, including our concerns about the delays at the Spain/Gibraltar border."