Plastic surgeon David Matlock has created ideal bodies for himself and his wife - enabling them to compete as bodybuilders.
David, 49, and partner Veronica, 38, gained their perfect male and female physiques through a gruelling diet, fitness regime, and specialist body-sculpting procedures.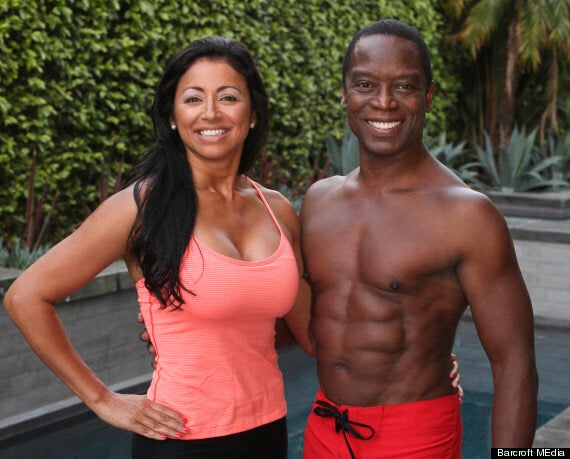 But when the Los Angeles couple first met in 2007, Veronica was 40lbs heavier, and was seeking a vaginoplasty after giving birth to her daughter, Isabella, 9.
Speaking about her plastic surgery consultation, Veronica revealed: "I couldn't even look into his eyes because of the reason I was there. I was so shy and bashful, but he says it was love at first sight."
David was immediately smitten with the Veronica, and suggested she also have a "Wonder Woman Makeover," involving liposuction of the chin, arms, and legs, and a Brazilian butt lift.
David said: "I didn't see her weight then, I just knew what I wanted to do."
"She opted for everything I suggested. Even marriage."
David proposed to Veronica on their very first date, and has been helping her to enhance her figure ever since.
Veronica surgeries include three breast augmentations prior to meeting David, as well as a Brazilian butt lift, vaginal rejuvenation, labiaplasty and G-spot shot, liposuction to her chin, arms and legs and recently botox injections.
Veronica admitted: "I feel like I'm a walking advertisement for him."
In his own quest for physical perfection, David has undergone several procedures that utilise a fat-implant technique called Vaser High Def Liposculpting, which he pioneered.
Made up of live fat from the patient's body, the implants can be injected into the biceps, triceps, calves, or pecs to create a perfectly sculpted, muscular figure. He is also trialling a procedure that involves injecting blood plasma rather than fat for patients like David who have very little fat.
David had liposculpting done on on his pecs, biceps, and triceps, and Botox injections to enhance his look.
David said: "I just wanted to take my body to a point where, with exercise and diet, you couldn't get it there."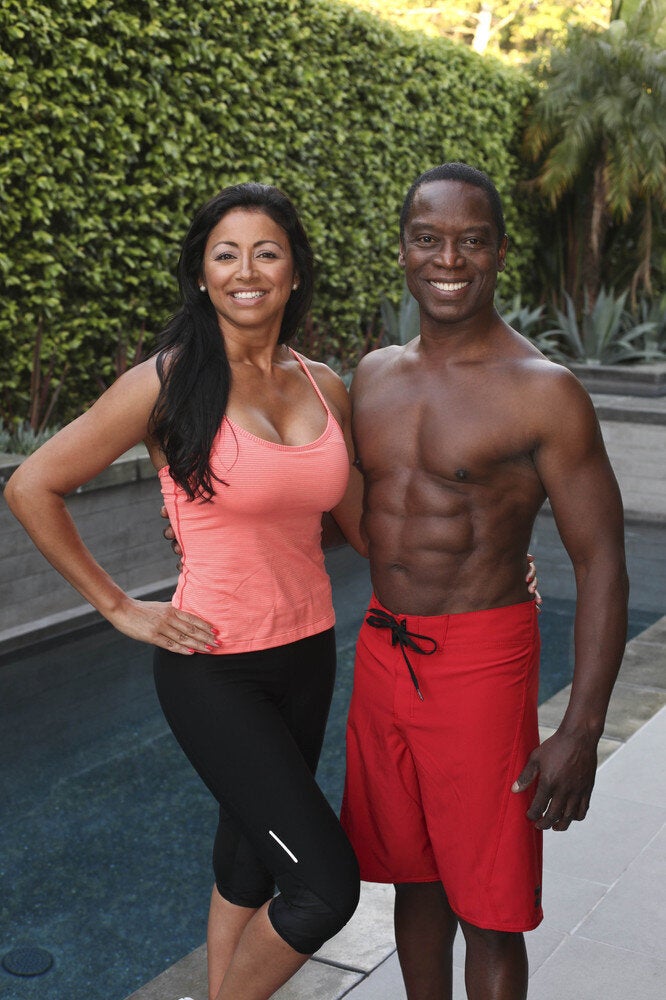 Bodybuilding couple
David, who treats bodybuilders from all over the USA, added: "We take out the fat under ultrasonic guidance and inject it into the muscles. I can sculpt out the biceps, the triceps, obliques, abs, calves, whatever."
Both David and Veronica compete in bodybuilding competitions where they show off their flawless physiques, and Veronica admits that her husband's obsession over fitness and beauty keeps her motivated to look her best.
Veronica entered in the bikini division of her first bodybuilding competition in October, but did not place. In his first competition, David placed third in the 35 and older Men's Physique division, and fourth in the 45 and older division.
She said: "Because he keeps himself looking good, it's added pressure. So I feel like I have to look good, you know."
Daughter Isabella has not caught the fitness bug yet.
Veronica said: "We're still working on Isabella, getting her to be more accepting of eating healthy.
"She eats what David cooks, but, if we tell her if she's eating healthy, she says, 'No, healthy food doesn't taste good.'"
Despite her parents' obsession, Isabella says she's not interested in having cosmetic surgery when she's older.
Isabella said: "I would never really want to get surgery, because it's not really you, like I want to be myself."
When David is out of the house, Veronica admits she treats Isabella to the occasional unhealthy snack.
Veronica said: "Her and I, we will spoil ourselves. We get frozen yogurt."
Despite the occasional cheat day, David works tirelessly to ensure that he and his wife stay healthy at home.
He said: "We have scales in the house, basically in the master bedroom. I weigh myself, and I do it every single day, sometimes twice a day.
"We also have lot of mirrors around the house. A lot of times, just in the gym, I want to look at our muscles."
Personal trainer and nutritionist Michele Dagona works with both David and Veronica for up to two hours a day, six days a week to get them competition ready.
Michele said: "Competition prep, it's a whole other level of fitness. It's totally outside the box compared to traditional training or nutrition."
Maintaining a proper diet is also a major concern for the bodybuilding surgeon and his wife.
In preparation for a competition, David and Veronica eat six carefully planned meals per day, consisting of lean chicken, fish, rice, and vegetables. David eats at least 200 grams of protein a day to build lean muscle.
David said: "I always eat healthy. A lot of my business is fat, doing liposuction all the time, but I don't like fat.
"I tell people I watch my weight, and I watch my wife's weight too."
Veronica said: "I know that David loves me for who I am."
But she added, laughing: "There's a fat clause there."