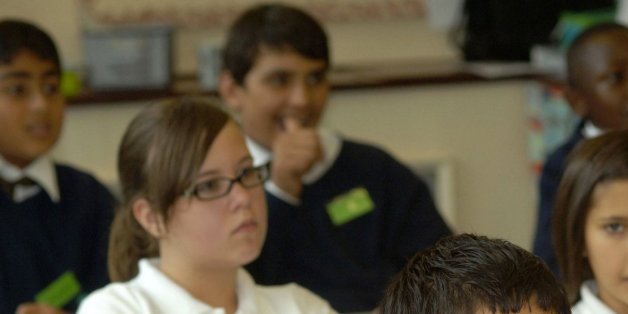 Alamy
Britain's schoolchildren are at risk of being segregated by class and race due to repeated attempts to introduce different types of state schools, a study has warned.
There is a "stubborn" underlying level of divide, with faith, academies and grammar schools contributing to the problem, according to the report. Professor Stephen Gorard at Durham University, who led the study, conceded England's schools are becoming more mixed in terms of class and race, but found between 20% and 50% of pupils would have to change schools for there to be a fair mix of students.
Areas which have several different types of schools tend to be more divided than places with more community primary schools and comprehensives. The study used national figures on pupils at England's mainstream state schools to create a "segregation index".
This looked at how clustered students are in particular schools in terms of poverty, speaking English as a second language, special educational needs (SEN), and coming from a minority ethnic group.
The level of segregation of SEN children was the lowest, with segregation of children speaking English as a second language the highest.
The researchers suggest that the impact of the recession and immigration have led to a reduction of segregation based on race and class.
Rising numbers of people facing financial hardship since the economic downturn in 2008 have led to more pupils becoming eligible for free school meals - a key measure of poverty - which meant these students became more widely distributed between schools. This has led to a fall in segregation based on this measure.
Segregation in schools based on poverty fell between 1989 and 1993, then rose up to the early 2000s before levelling off and starting to drop again from 2008, the study says.
There is also less division in pupils by ethnicity and English as an additional language.
Immigration has meant a rise in the numbers of non-white students, which means they are more mixed between schools, the researchers suggest.
The could be partly down to historical increases in immigration, as well as changes to the way ethnic minority groups are reported in official figures.
Segregation in terms of special needs has fallen as more pupils with SEN are taught in mainstream schools, it adds.
Prof Gorard warned that despite falls in segregation, there are still underlying permanent levels of divisions.
Since records began in 1989, the proportion of poor pupils who would have to change schools to ensure there was no segregation by poverty has never dropped below 30%, the report says.
It concludes that there are likely to be lower levels of segregation in areas with higher proportions of schools run by the local council.
"Segregation by poverty is highest in areas with fewest 'bog standard' schools, and lowest in areas with fewest independent, special, selective, faith-based, foundation, CTC or academy schools," the paper says.
It argues that a government can act to encourage or control immigration, and to reduce levels of poverty, but adds: "To cut into the existing underlying permanent levels of segregation requires more than this.
"It requires the more radical step of dismantling the apparatus that creates the underlying segregation in the first place. A national school system, intended to have mixed intakes, should be comprehensive in nature. It should not select by attainment or aptitude. It should not select by student background, or by faith."
Prof Gorard said: "The economic region with the highest free school meals segregation is the West Midlands, where six authorities retain grammar schools and selection. The local authority with the highest segregation is Trafford, similarly having retained selection.
"The link with the new converter academies is even stronger. Indeed, any differentiated type of school - including faith-based, foundation, and fee-paying - tends to be linked to higher local levels of segregation. On the other hand, maintained, non-selective, 'bog-standard' schools are strongly and unambiguously linked to both lower segregation and a further decline in segregation of all types over time."
He added: "If you want less segregation, do not have different types of school."
The paper is being presented to the British Educational Research Association on Wednesday.