The prime minister has denied reports that he has been snubbed at the G20 Summit in St Petersburg after an adviser to President Putin allegedly dismissed Britain as "just a small island," adding: "no one pays any attention to them".
The slight was reported by the BBC's political correspondent Nick Robinson, who claims the remark was made by a senior Putin aide. This latest reported slight will not help Cameron's international standing
Speaking to the Press Association, Dmitry Peskov, who is alleged to have made the cutting aside, denied making the comment.
"I don't know the source of that claim. I simply can't explain the source of that claim," he said. "Definitely it is nothing to do with reality. It is definitely not something I have said. I don't know whose views it reflects - it's nothing to do with us.
Peskov added: "We have very positive dynamics in our relationship between Britain and Russia. We have very good contacts between our two leaders, Mr Putin and Mr Cameron."
Following Robinson's report, a Downing Street spokesperson said: "As host of guests from the world's leading countries, I'm sure the Russians will want to clarify these reported remarks, particularly at a G20 where it's a very British agenda on trade and tax. It highlights how a small island with great people can achieve a big footprint in the world." Cameron and Putin enjoy a 'warm' handshake before the alleged snub
In response to the alleged remark, Cameron told the BBC: "Well I don't accept that for a moment. As I say, it's right to make a stand on chemical weapons; it's right to take that to Parliament; it's right to respect Parliament.
The beleaguered prime minister added: "Apart from not taking part in military action, Britain will be leading the argument on humanitarian aid. Britain will be one of the leaders in bringing forward plans for a peace process for Syria. Britain will be leading the argument across the globe for continuing to respond strongly on chemical weapons.
"And when you look at the rest of the G8 - the G20 agenda - you look at the arguments about making sure our taxes are more transparent, making sure trade is kept free, making sure we replace the Millennium Development Goals with something meaningful: each and every one a strong British priority."
More from the Press Association:
Cameron said the test result "adds to the picture" of chemical weapons use, but said the key issue was whether those who question the regime's culpability - including the Russian president - can be convinced Assad is to blame. The development came as Pope Francis urged the G20 leaders to overcome their differences on Syria and agree to abandon "the futile pursuit of a military solution".
In a letter to Putin, the leader of the world's Catholics warned that armed conflicts create "profound divisions and deep wounds which require many years to heal" and called on G20 states to pursue "a peaceful solution through dialogue and negotiation of the parties".
Meanwhile, Iran's supreme leader Ayatollah Ali Khamenei accused the US of using chemical weapons as a "pretext" to attack Syria, and warned: "I believe the Americans are making mistakes in Syria and they have felt the impact and will certainly suffer loss."
Cameron denied he had been sidelined at the summit by his decision to rule out British involvement in military action following his shock defeat over Syria in the House of Commons last week. He played down the significance of US president Barack Obama holding bilateral talks with the leaders of France and Japan in St Petersburg, but not with America's traditionally strongest ally Britain.
Dismissing as "complete nonsense" suggestions that the episode had damaged the UK-US special relationship, Cameron said: "The relationship between Britain and America is so good that we don't have to measure it in the number of telephone calls or meetings." He insisted Britain will lead the world at St Petersburg in pushing for more help for Syrians caught up in what he termed "the worst refugee crisis of this century".
But he made clear he remains a staunch supporter of punitive action against the regime, warning it would be "appalling" for Assad to be allowed impunity.
In a round of TV interviews in St Petersburg, Cameron said: "I absolutely believe that having set a red line on the further big use of chemical weapons, I think it would be wrong if America was to step back and, having set that red line, to do nothing.
"I think that would send an appalling signal to President Assad and also to dictators elsewhere. The House of Commons decision, as I interpret it, is that there should be no British involvement in that military action, and I respect that. But the world does need to respond strongly and I won't stop making that argument."
Britain is to brief the United Nations on the discoveries made by the Defence Science Technology Laboratory at Porton Down. It is understood that the materials under examination came via a third country in the region and were reported to have come from the Ghouta neighbourhood where hundreds of civilians died on August 21.
Cameron said: "I think the evidence is growing all the time. We have just been looking at some samples taken from Damascus in the Porton Down laboratory in Britain which further shows the use of chemical weapons in that Damascus suburb...
"I think we will add to that evidence. For some people there will never be enough evidence and for some in the debate in the House of Commons it wasn't about evidence, it wasn't about chemical weapons, it was about how they felt let down over Iraq and a deep concern - which I completely understand - about not wanting to get further involved in the difficulties in Syria.
"My view is we have to look at chemical weapons as something different, something awful. Those pictures of children being gassed on our television screens are something the world must not turn away from."
Cameron said he welcomed Mr Putin's indication that he "doesn't exclude" voting in favour of action at the UN Security Council if clear evidence is produced that Assad was to blame for the attack. But the Prime Minister added: "I haven't yet seen any evidence that Russia will change their position at the United Nations."
Cameron made clear that he does not regard UN approval as necessary for a US-led strike. "The best way of doing this, of course, is having a UN resolution, a condemnation of Syria, backing for all necessary measures to be taken," he said.
"But I'm also clear - and I don't resile from the arguments I made last week - when America and many others in the world draw a red line over chemical weapons use, if nothing follows from that, that would be very bad for our world." He added: "I don't think anyone is seriously denying that a chemical weapons attack took place. I think the Russians accept that. Even the Iranians accept that.
"The question is obviously convincing more people that the regime was responsible."
Britain has already committed £348 million to humanitarian assistance for those affected by the two-year civil war, and is expected to offer further support during this week's summit. Cameron said: "On the issue of Syria, Britain will be the leading power making the arguments and bringing other countries together on the issue of humanitarian aid.
"Every 15 seconds there is another Syrian refugee. While we are sitting here in the comfort of St Petersburg, thousands of people will be made homeless. They need tents, they need shelter, they need food, they need protection from chemical weapons attacks.
"Already Britain is the second largest bilateral aid donor. We've stepped up to our responsibilities. We should be proud as a country about what we can do. Now we need to get other countries together and ask them to contribute in a similar way and that's what I will be doing here in St Petersburg."
Cameron repeated his insistence that he will not go back to Parliament for a second attempt to secure MPs' support for military action, acknowledging that his defeat reflected "deep, deep scepticism" among voters about getting embroiled in the two-year civil war.
But he was critical of the stance taken by Ed Miliband, arguing that Labour had chosen "the easy and political path, not the right and the difficult path".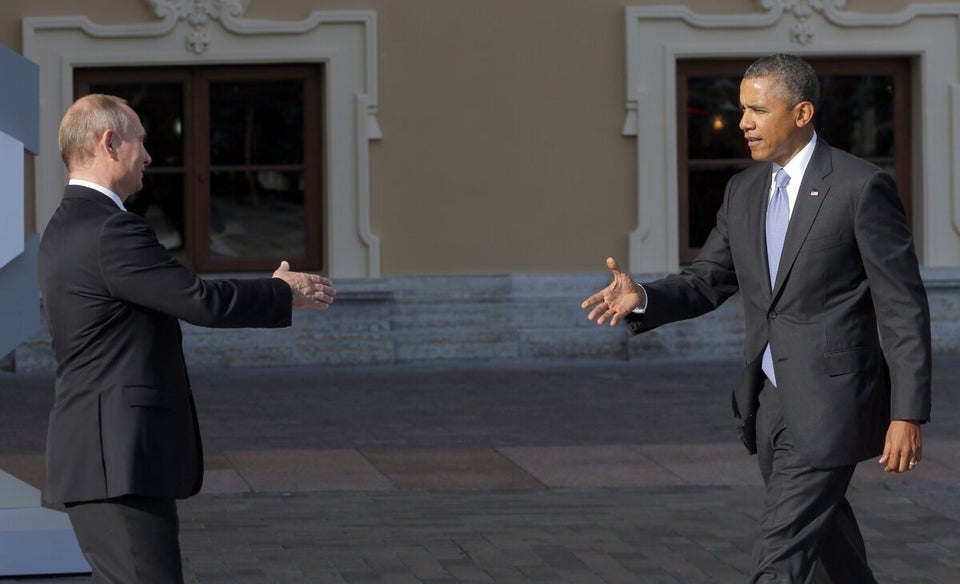 G20 Summit