Syria's children have already borne the brunt of the conflict, with reports of torture, child soldiers and others embarking on "death journeys" to escape the bloody war.
Pictures have now emerged of children still in the war-torn country, working in weapons factories as rebels and government forces wage a bloody war against each other.
A 10-year-old boy, Issa, spends 10 hours a day working with his father in a factory for the Free Syrian Army.
His education, Business Insider reported, has been replaced with on-the-job training.
Other children have been pictured clutching at weapons, some in self defence, amid a conflict that has now claimed more than 100,000 lives.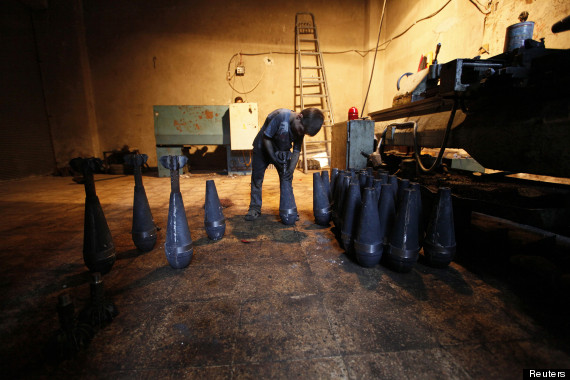 Syrian children have been pictured working in weapons factories
Earlier this year a shocking image emerged of a seven-year-old boy puffing on a cigarette, with an AK-47 slung over his shoulders.
The stark shots show Ahmed, the son of a rebel fighter, standing guard in the neighbourhood of Salahadeen, one of Aleppo's front lines.
SEE ALSO: