Millions of people could be tipped into extreme poverty over the next two decades due to Government spending cuts and tax and benefit reforms, a stark report has warned.
The Government's work to reduce the deficit will hit the country's most vulnerable, Oxfam has said, shockingly claiming that if Britain follows Bolivia's struggle to recovery, the gap between rich and poor in the UK could become greater than that in South Sudan.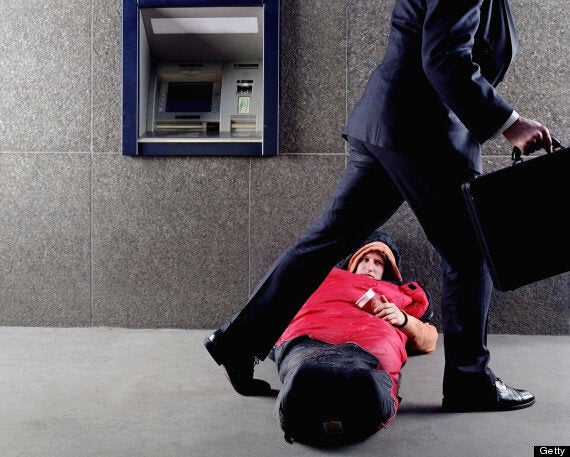 The gap between the rich and the poor in Britain could escalate dramatically, a report has warned
The report worryingly said that 800,000 children and 1.9 million adults in the UK are at risk of living in poverty by 2020 if ministers continue to pursue brutal austerity measures, potentially making Britain "rank amongst the most unequal anywhere in the world."
Across Europe, as many as 25 million more people could no longer have a decent standard of living by 2025, it said.
European nations could struggle to recover in the same way countries in Latin America, South East Asia and Africa suffered following austerity measures throughout the 1980s and 1990s, the charity said.
In 2009, South Sudan had a rating of 45.5 on the Gini index - which measures a country's distribution of income - compared with 56.3 in Bolivia in 2008. The UK is currently measured at around 34, Oxfam said.
"Oxfam can no longer stand by while such poverty and suffering are being created in Europe," the charity's report said.
"At best, the countries most affected by austerity will become the most unequal in the Western world. At worst, they will rank amongst the most unequal anywhere in the world."
The charity has now called on governments across the continent to reverse austerity measures which it said had "massively" increased poverty and inequality.
In its report, A Cautionary Tale, Oxfam calculated it could take between 10 to 25 years for poverty to return to pre-2008 levels in Europe.
According to Oxfam's report, real wages in the UK have fallen by 3.2% since the financial crisis and are now at the levels reached in 2003.
Economic stagnation in the UK, the rising cost of living, cuts to public services as well as falling incomes and rising unemployment have created a "deeply damaging situation in which millions are already struggling to make ends meet", the charity said.
One example is the unprecedented rise in the need for emergency food aid, with at least half a million people now using food banks each year, it added.
Oxfam has called on European governments to replace austerity measures with economic stimulus programmes that promote investment and capital spending and protect EU and member states' overseas development aid budgets.
Its report also recommends more investment in public services, greater institutional democracy and fairer tax systems across Europe.
The charity concluded: "Governments have responded (to the financial crisis) with an austerity and adjustment model that has largely failed to lead to growth, and which is already increasing inequality and poverty.
"Even when countries do return to growth, the mechanisms to reduce inequality and poverty will have been severely weakened by austerity, meaning that the richest will benefit the most from new growth.
"We need a new economic and social model that requires investment in people, strong democratic institutions and a fair fiscal system that delivers better outcomes for people, communities and the environment."
A Government spokeswoman insisted tax and welfare reforms will help "improve the lives of some of the poorest families."
"We know that times are tough, and we have already taken action to help families with the cost of living, including cutting income tax for 25 million people, which will save a typical taxpayer over £700, taking 2.7 million out of income tax altogether and freezing council tax for five years, saving a typical household £600.
"Fundamentally, the best way to improve living standards is to tackle the UK's economic problems head on and build an economy where those who aspire to work hard and do the right thing are rewarded.
"The Government's economic plan has already cut the deficit by a third, enabled the creation of 1.4 million new private sector jobs, and secured low interest rates for households and businesses."