Hilary Clinton has delivered a staunch defence of human rights while acknowledging the "deep cultural and political differences" that blight the new century during a ceremony for the conferment of an honorary degree from one of Britain's oldest universities.
In her first foreign visit since she left the Obama administration in February, the former US Secretary of State gave the graduation address to mark the 600th anniversary of the founding of St Andrews University in Scotland.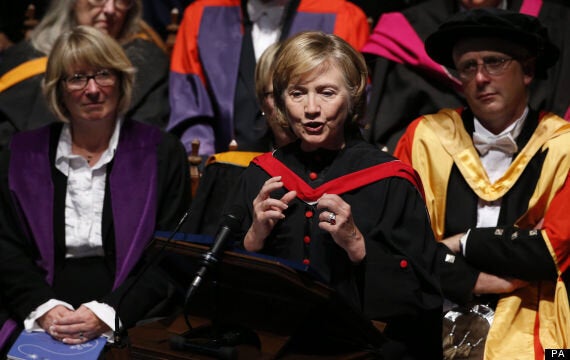 Clinton: 'We are confronting deep cultural and political differences'
"We need more voices speaking up for universal human rights," Clinton told an assembly of educators and students.
"We have honoured some of the great advocates here today who have spoken out courageously for women's rights, gay rights and religious understanding, showing us that our communities and institutions are strongest when equality and opportunity are open to all people and freedom of conscience is respected.
"Here in the home of the Scottish Enlightenment and the great contributions from Scottish universities, we need to be reminded that it paved the way for much of the progress we now take for granted, not only in the West but around the world.
"And it is important that as we chart our way forward in this new century, we bring with it the enlightened view that every individual around the world regardless of gender, religion, race, ethnicity or orientation, should be able to contribute to their societies and to have the chance to live up to his or her God given potential.
Clinton continued: "We are confronting deep cultural and political differences. Change can be very wrenching and it is difficult to bridge the gaps between and within societies. We will never agree on everything... but spirited and principled debate is the lifeblood of democracies and today our democracies are under stress.
"It is more important than ever that we rally behind what started here and elsewhere, where the individual was endowed by his creator with those rights that enabled first men and slowly women and others to be full participants in their society. Now we need in this new age participation on a much grander scale to make the case for the importance of those fundamental values."
The 65-year-old, who is widely tipped to be the Democratic Party's presidential nominee for the 2016 election, received a doctor of laws degree, conferred by the institute for her work as both politician and diplomat in championing the causes of education, human rights, democracy, civil society and promoting opportunities for women around the world
Liberal politician Sir Menzies Campbell, the chancellor of the University, presented the award to Clinton, who was among several dignitaries awarded degrees that included the former Archbishop of Canterbury Rowan Williams, classicist Professor Mary Beard, inventor of the World Wide Web Professor Sir Tim Berners-Lee, primatologist Dame Jane Goodall, anthropologist Professor Dame Marilyn Strathern and philosopher Professor Nancy Cartwright.
"This is not only a retrospective about their great accomplishments individually," Clinton said. "This is a call to action as well. Their work tells us much about the challenges we face in the 21st century as well as the opportunities that we can and should seize together."
Clinton also commended St Andrews for being the first of Scotland's ancient universities to be led by a woman, adding that equality for women remained "one of the great unfinished missions of our time".
Speaking directly to the students, Clinton concluded her speech with an impassioned appeal: "We look for you to be part of a great movement of young people across our world, who will not settle for the lowest common denominator, who will not give up your right to be heard, who will not take the easy path of conventional agreement with ideas and policies that are neither founded on evidence nor common sense."
"We need you to be in a new vanguard for the kind of changes that we are seeking that will make a difference in this world. We cannot succeed without great institutions like St Andrews continuing to speak out, to break barriers, and we cannot succeed without young people who are willing to walk through those openings and help chart a new path for us all."
Speaking after the ceremony the university's principal and vice-chancellor, Professor Louise Richardson, said: "As one of the most influential women in the world, Hillary Clinton, as stateswoman, senator and policymaker, never shied away from tackling difficult questions, working to make the world a better place, inspiring others, speaking out for the voiceless and striving ever to excel."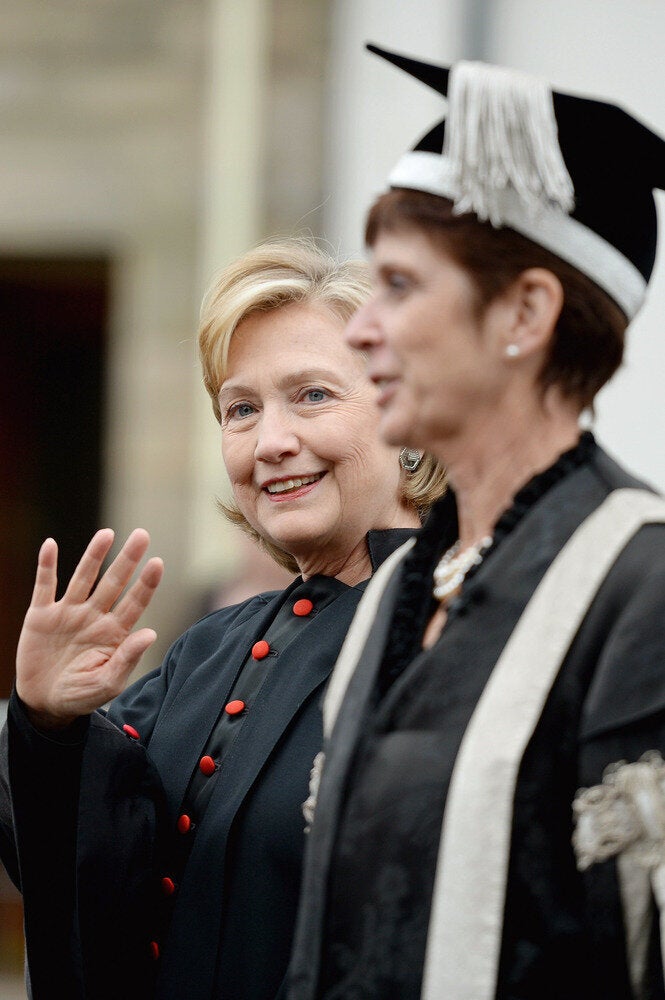 Hillary Clinton Receives St Andrews Honorary Degree